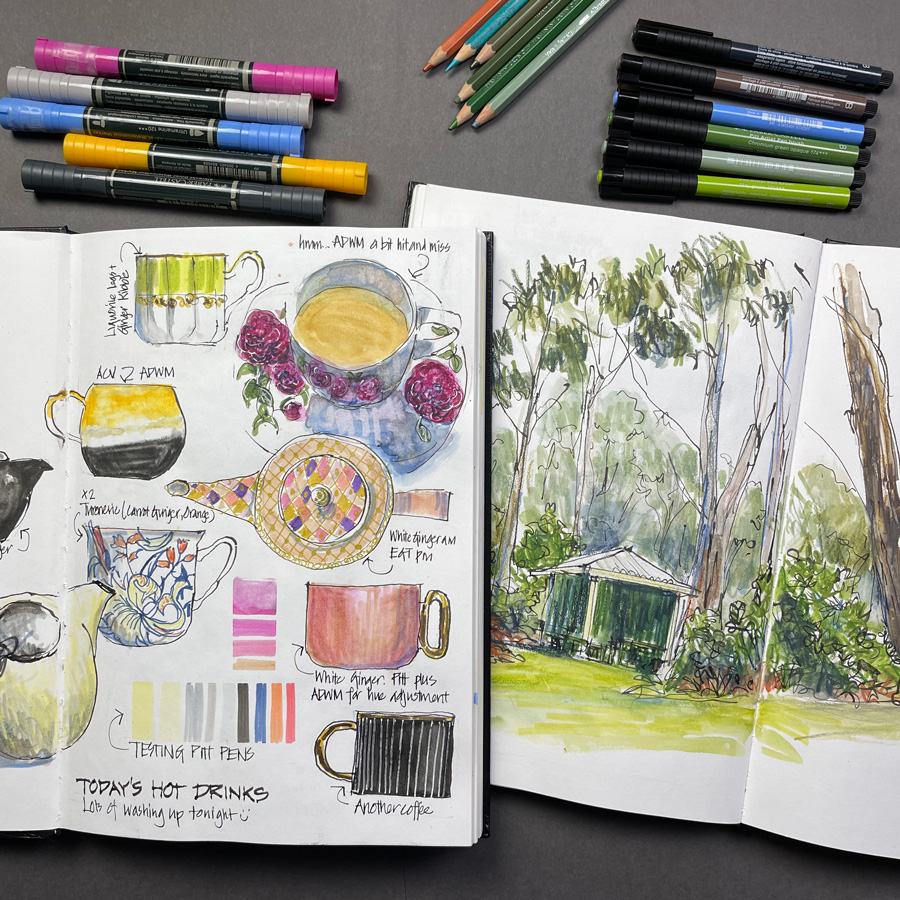 Here's a wrap-up of the other marker and watercolour pencil sketches that I did over the last few weeks that I haven't shared with you.
Another Pitt Pen version of the Village Green and then I had the idea to try WCP (in this case Albrecht Durer Watercolour Pencil) under the Pitt Pens (permanent pigment marker). And wow! Pitt Pen over the waxiness of the WCP can be moved with a waterbrush as if it's water-soluble.

So that afternoon I went to Lane Cove National Park and put this technique to the test. It worked but I was reminded of the opacity of WCPs.

So on the next day, I decided to go WCP only…


… and keep the WCP-only theme for another visit to Lane Cove. (I normally use WCPs with watercolour over the top so this is different for me.)

More WCP and Pitt tests…


… and then back to just Pitt Pens. I love the freshness, vibrancy and transparency of these markers. I also love layering up to 4 different colours, especially in shadow areas.

More simple Pitt Pen sketches.
[At this point I had a few days away in Newcastle and Kurri Kurri and then a few days break from my sketchbook]


Lots and lots of hot drinks to ease a cold I had (the first cold I've experienced in over 3 years!) The thought of using a different teapot and cup for each type of drink was a fun idea for sketching… but it generated a lot of washing up! 🙂

And another day with lots of hot drinks!

Last day of marker only… I liked the combo of colours I used in the background bush.

And the last marker sketch in this article was a crazy experiment of Pitt Pen, then watercolour, then a little WCP.
So in summary… at the end of my month of exploring different Faber Castell products, my favourite was the Pitt Pens. But I also really enjoyed the Albrecht Durer Watercolour Markers. So the challenge ahead is to see if I can work out a way to keep using them in some form over the next few months.
And finally – if you are in Australia… a reminder of the Faber Castell Australia Colour4Life competition that ends this month – find out more here.
Thanks for coming along for the ride in the past month or so. I'm definitely going to be continuing using markers but my focus now is watercolour and the Live Version of my Watercolour On Location course. 🙂