The topic of sketchbooks is a very complex one but in summary, there is no perfect sketchbook that suits everyone in every situation. The media you use will have a big impact on the type of paper that will suit but you also should consider size, format and binding.
I have two favourite books:
Stillman & Birn Alpha as my everyday sketchbook (I often change the size and format of the book I use – A4 hardcover, square softcover, 8×10 softcover)
Moleskine A4 Watercolour Folio Sketchbook as my travel and 'special' sketchbooks
l love the Alpha sketchbooks because there are lots of pages, the paper is great to use with ink and pencil (great tooth) and although not designed for watercolour, it is incredibly robust. I throw a LOT of water and pigment at it, draw into the watercolour with ink and nothing goes through to the other side – well, heavy scrubbing with an Inktense pencil into a wet wash might! The paper buckles a little but I like that 'lived-in' feel from my daily book. Alpha paper also creates a huge variety of textures which is important in my work – see more here.
As for the Moleskine sketchbooks… The paper changed a few years ago and it is not as nice as it used to be – there is a definite front and back and the front side has a strong mechanical grain to it. However, it is still the best sketchbook paper that I have found which suits my rapid wet-in-wet style of sketching. (I explain more during my course SketchingNow Watercolour)
The paper in these books suits the way I like to work – see this post for an explanation.
---

How to choose a sketchbook
Please refer to this article for the main things to consider when choosing a sketchbook
---

Sketchbook Index
Sizes, formats and brands that I've used over the years
---
My sketchbook collection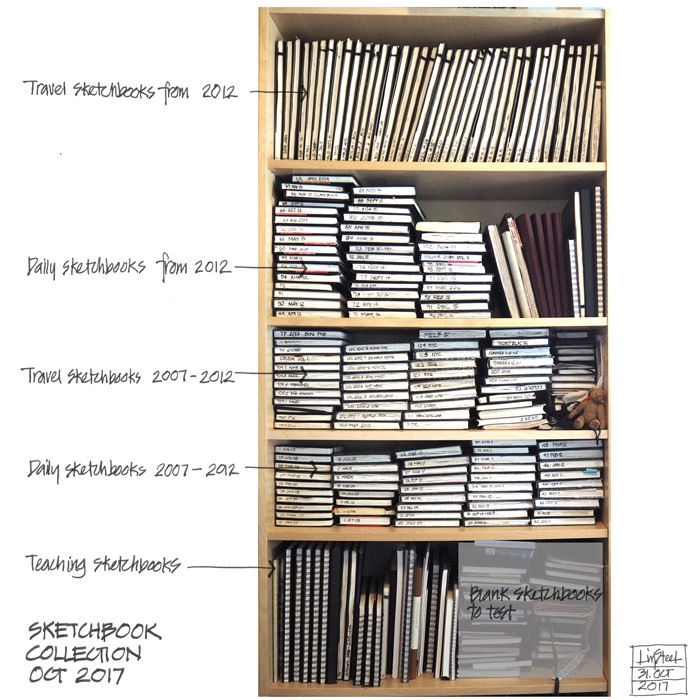 I predominately work in sketchbooks as I want to record my life and love the narrative of my creative journey that is created in the pages of a book. You can see from above that I have quite a collection. Read more about that here.
I really need to do an updated photo! 🙂
---
Other links to important articles about sketchbooks and how I use them: