The topic of sketchbooks is a very complex one (I could spend a whole day writing about it … maybe a whole week!) but in summary there is no perfect sketchbook that suits everyone in every situation. That might be an obvious statement but really, what works for me is not necessarily perfect for the way you work, so at the end of this page I list a few things that you should consider in your choice.
Continue reading for full descriptions
The topic of sketchbooks is a very complex one (I could spend a whole day writing about it … maybe a whole week!) but in summary there is no perfect sketchbook that suits everyone in every situation. That might be an obvious statement but really, what works for me is not necessarily perfect for the way you work, so at the end of this page I list a few things that you should consider in your choice.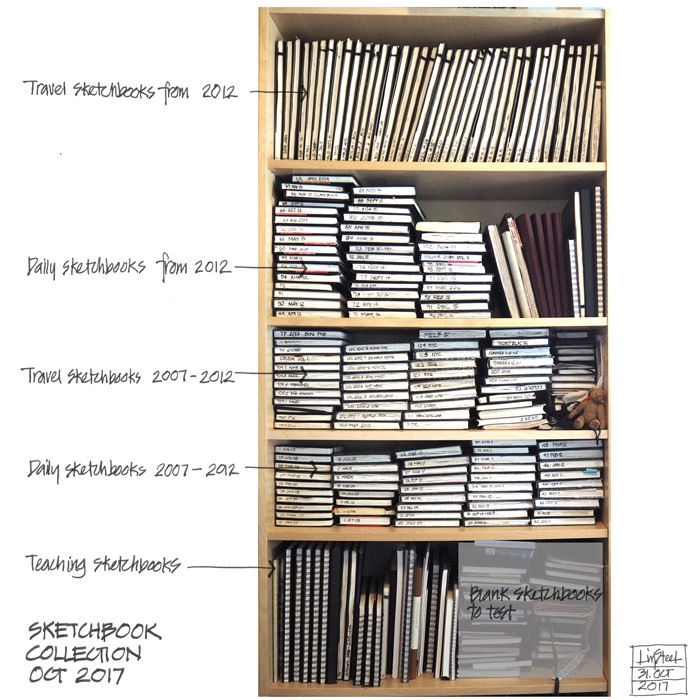 I predominately work in sketchbooks as I want to record my life and love the narrative of my creative journey that is created in the pages of a book. You can see from above that I have quite a collection. Read more about that here.
Occasionally I do work on loose sheets of paper but that is not the norm – so these shelves contain the majority of the art I have created in this period.

I asked other sketchers to list their favourite sketchbooks in this post and will be testing some of those listed down the track.
The two sketchbooks that I currently use are these.

My everyday 'journal' sketchbook Stillman and Birn Alpha
124 pages Landscape 9 x 6 (229 x 15.2cm) 150gm2 Natural White Vellum Surface
This book on Amazon
My sketch outing and travel sketchbook. Moleskine A4 Folio Watercolor Album.
60 pages 200gm2 Cold pressed 29.7 x 21cm. Please note the paper has changed in 2014 and my first review of the differences can be found here.What I will do in regard to the changed paper is still undecided. As of July 2014 I am still testing different options but learning to work with the new paper.
This book on Amazon
The reasons for these selections……

Everyday book (Alpha landscape)

– I go through books at a rapid rate. 120 page book in 4-5 weeks. I use them for daily sketches, notes (some pages contain mostly text) all kinds of' to do lists' and thoughts (often at the back of the book), experiments, very quick sketches on occasions when common wisdom would say that I don't have enoughtime. So I want a book with plenty of pages and that I can do a range of stuff with, that I have the freedom to take crazy risks, the think aloud and use as a 'working book' (I don't post every page in my sketchbook- I have many working pages in the back of the book that are just for me)
– I love the alpha sketchbooks because there are lots of pages, the paper is great to use with ink and pencil (great tooth) and although not designed for watercolour it is so incredibly robust. I throw a LOT of water and pigment at it, draw into the watercolour with pencil and nothing goes through to the other side. (heavy scrubbing with a ink tense pencil into a wet wash might!) The paper buckles a little but I like that 'lived-in' feel from my daily book. The photo above shows two VERY wet paintings I did in the Alpha and the photo below shows the buckling from a very wet usage.
– The book is very robustly bound and covered and very well made (I love the quality)
– I love the bright white of the page
– I used to use the A5 portrait book but I got a little sick of painting across the spread so went for this landscape size which is working just great for me at the moment (it is heavier though)
– I can't get all the effects I would like with watercolour on this paper but still happy overall. Any other options are too heavy, or too expensive (I would go through a 60 page book in 2 or 3 weeks!)
– I think the Alpha book is a good book to start with. There are lots of pages so there is no pressure of ruining a good sheet. It is great to work with with ink and with pencil, watercolour pencil. The paper doesn't do anything to help you watercolour so you have to learn early on to load your brush with plenty of pigment. If you work with juicy washes and don't fiddle with your washes ('hit it hard and leave it') then you can get very good results with the Alpha.
(Note: for many years I used the Daler and Rowney Ebony book and then the Jasart Premium Sketchbook with 150gm2 cartridge paper. The paper in both of these books have been down graded over recent years and no longer suitable for my use. At the time I was using these books, my sketching with ink was the priority but the paper still held my loose, spontaneous, quick watercolour brushwork very well. The performance of the Alpha paper is superior to these, especially these days with the current paper)

Here is the alpha in a almost complete state (BTW I leave the label on because so many people ask me about it and I also to show people in my classes – I normally take it off when it is completed)
Sketch Outings – Travel books (Moleskine A4 watercolor album)

– When I go out sketching for the day or travelling, I want to work bigger and I want better watercolour paper. So I use the moleskine watercolor book (which up until recently) was perfect for me. For various reasons the moleskine paper just suits my work perfectly at the moment – it is lovely to write and draw on with ink, with pencil, watercolour pencil and is great for the way I use watercolour. It gives me lovely granulation! (I love granulation – see above… and yes it opens up vey wide – couldn't fit it all in my photo!)
– The new paper is inferior and isn't as easy to work with (follow link above for more thoughts on that).
– The large A4 landscape format meant I could do big landscape panoramic sketches or I could fill up the page with lots of little sketches and collage and plenty of room for text. Here is a example of both occasions on the first trip I used the book (Singapore 2012)
– The size is too heavy for me to carry in my page but on both my sketching outings and when I travel I carry my sketchbook in my hand (yes I do – ready to sketch at any moment!)
– The book is big and wide to open up (a little challenging on small cafe tables and on planes!) and you do become a little bit of a spectacle when you use it (you look like you are an artist – I like that!) I often use the other side (if not working the whole spread) as a 'table' for my paint tin and that works great!
Other books….


The other sketchbook I am seriously reviewing at the moment is the Stillman and Birn Beta books.
I know a lot of people love these books.
– I have tried the A5 book for my daily sketchbook (see above) on two occasions and found the Alpha suited me better – so am now in the process of testing it for out my outing days.
– I would go through books at too rapid a rate to use the A5 size for daily use – the A4 portrait version is a little heavy.
– If you want your sketchbook to be predominately filled with watercolour sketches and little text than this is the book I would recommend people test out.
– The paper appears to be more heavily sized than the moleskine and I am still testing the book to see if I can get all the effects that I can with the moleskine.

A number of things to consider when you decide on a sketchbook for you
– what medium will you be using?
– how will you use it? Is it only for sketches (watercolour) or do you want to include lots of text
– are you starting out? are you afraid to use good paper?
– how many pages will you go through? – if a lot maybe you need more paper – if you will be working slowly then you become worried that you will never finish the book (and finishing your first sketchbook cover to cover is an amazing achievement!)
– do you have a preferred format – landscape, portrait, square? (sometimes mixing it up and trying a different format is good)
– do you want to carry your book around with you everywhere or just take it out on special occasions (the weight will be a serious consideration.)
– does the book open flat? – both the moleskine and the S&B books do (the S&B books need some wearing in of the spine – here is a good description of what you should do with a new book)
BTW don't ever get too attached to any one sketchbook… the paper and bind could possibly change!
Will be updating this page again soon with more details…. (as you can see there is a lot I can say about sketchbooks – this has only scratched the surface!)
——————-
SketchingNow Online Sketching Courses: Foundations Self Directed course start today!
——————-
Subscribe to my mailing list for my monthly newsletters