The topic of sketchbooks is a very complex one (I could spend a whole day writing about it … maybe a whole week!) but in summary there is no perfect sketchbook that suits everyone in every situation. That might be an obvious statement but really, what works for me is not necessarily perfect for the way you work, so at the end of this page I list a few things that you should consider in your choice.
How to choose a sketchbook
Please refer to this article for the main things to consider when choosing a sketchbook
Favourite Sketchbooks (updated Jan 2022)
Moleskine Watercolour book A4 size in either landscape or portrait format – preference at the moment being the portrait
Stillman and Birn Alpha – I use various sizes but my favourite at the moment is 8×10 softcover
Paper in these three books suits the way I like to work – see this post for an explanation.
---
---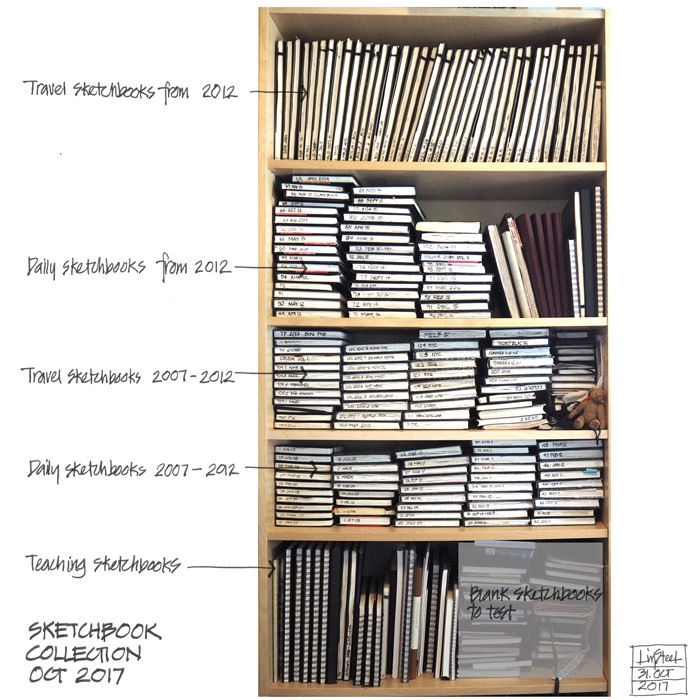 I predominately work in sketchbooks as I want to record my life and love the narrative of my creative journey that is created in the pages of a book. You can see from above that I have quite a collection. Read more about that here.
Occasionally I do work on loose sheets of paper but that is not the norm – so these shelves contain the majority of the art I have created in this period.

I asked other sketchers to list their favourite sketchbooks in this post and will be testing some of those listed down the track.