Last week I taught a 2-day sketching architecture workshop in Sydney and had a total blast.
It's nearly 3 years since I have run this particular workshop and it was just so wonderful to be teaching this material again – how to see buildings differently and a practical approach to perspective. I'm so passionate about helping people improve their building sketches and have fun with ink and wash!
We had a fantastic group of sketchers – such a lovely bunch who produced amazing results over the two days.
It's so exciting to see many breakthrough moments (both in sketching and seeing buildings and angles) during our time together. Thank you so much for being such a great group!
This was only the second 2-day workshop which I have been able to teach in Sydney this year – the other one was in February and was focused more on using watercolour on location. Last week with our focus on architecture sketching we didn't get to do as much watercolour work as I had hoped, so I've decided to offer a 3 day workshop in February so that I can combine the most crucial content from the two 2-day workshops into one!
This new workshop "Buildings and Watercolour" will cover the essential topics for sketching urban scenes. We will be focusing on buildings but I want to expand the content to include their surroundings as well. We will also spend a few sessions looking at ways of improving our watercolour – making our washes more lively and our colours more harmonious.
I'm super excited about this new workshop as three days will give us a great time frame to really make a significant impact on everyone's sketching.
So here's some more details…
---
Sketching Sydney: Buildings in Watercolour
3 day urban sketching workshop

Improve your urban sketching skills drawing buildings in their surroundings and creating lively watercolour sketches
Wednesday 19 – Friday 21 February 2020
Macquarie St/Hyde Park areas Sydney
---
This workshop will explain how to draw and paint buildings and their surroundings in ink and watercolour.
In this workshop you will learn:
How to simplify buildings into a few boxes (volumes) so that they are easier to sketch
How to see and measure angles and lengths
How to apply watercolour in a spontaneous way – thinking about values and harmonious colour
How to control how much detail to add to your sketch
How to deal with building texture and how to stop drawing every brick
How to draw in perspective even if the vanishing points are off the page
How to draw buildings elements (such as windows or roofs) with or without perspective
How to have the confidence to sketch any building using a variety of fun techniques
How to add trees, skies and surrounding elements to your building sketches.
I will share lots of tricks for sketching buildings and urban scenes in a fun and lively way!
I'll be sharing my experience from 20 years as an architect and over 200 sketchbooks of applying this knowledge to real-life sketching on-location.
This workshop will be a summary of the content taught in a number of my SketchingNow online courses including Buildings, Watercolour and Watercolour On Location.
If you have done some (or all) of these courses, this workshop will be a great way to put the concepts together out on location in the lovely Macquarie St and Hyde Park precincts with a great group of fellow sketchers.
Participants will receive an extensive detailed PDF handout after the workshop with a summary of the concepts taught in the workshop and a copy of all my demos, sketches and notes.
CLICK HERE TO READ FULL DESCRIPTION AND SIGNUP VIA EVENTBRITE
Optional Meet and greet
As there are normally a number of participants attending from afar (interstate or international), we will have an (optional) meet and greet with a chance to do a warmup sketch on Tuesday evening in The Rocks area. Making new sketching friends is such a highlight of my workshops, so I really wanted to add something extra for this one.More details will be emailed to participants closer to the event.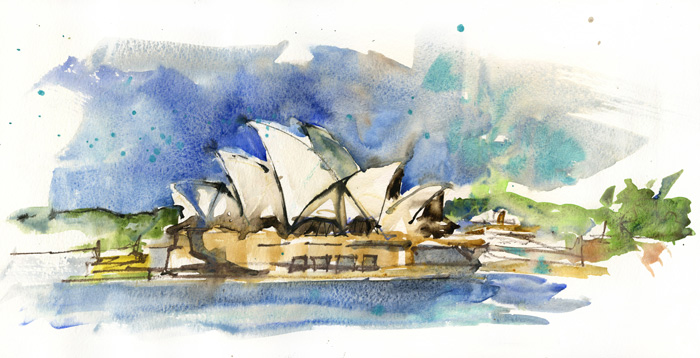 I'm super excited to be offering this new workshop in 2020 and would love for you to join!
---