A few months ago I received two sketchbooks from Etchr Lab. They were a Hot Press Etchr Sketchbook A5 size and a Cold Press Etchr Sketchbook A5 size.
I've been using both books as my daily sketchbook since October. I totally filled the hot press (HP) and half-filled the cold press (CP). Today, I'm finally going to share my thoughts! I'm been promising a review for weeks but needed to really use both books in a variety of situations before I felt comfortable to review them.
Here is a brief overview of the different characteristics of the books.
Paper
HP: 220gm 100% cotton (vegan friendly) smooth surface
CP: 230gm 100& cotton (vegan friendly) with a lovely texture.
More discussion about the paper below, but in summary, the cotton paper in these books is beautiful!
Number of Pages
52 pages for both HP and CP and all sizes (A6, A5 and A4)
I filled the HP book in 3 weeks (but I sketch a lot!)
Binding and Cover
The books are hardbound and pages open flat. I had no issues with the binding during the three week period that I carried the book around with me. Note. I only ever open my book flat, but the binding doesn't feel as if it would like being opened more than 180 degrees.
The cover is lovely – white cotton which can be painted with watercolour.
When I started the first sketchbook (HP) I was afraid to get the white cover dirty and so I covered it with a reusable plastic cover. But when I started the second book (CP) I didn't care so much and simply accepted that it would get grubby (and match my Lamy White Joy!). You can see in this photo how dirty it got during one week of use!
I am tempted to try painting on the cover… but haven't done that yet. I'm thinking about simply applying a nice granulating wash of mixed grey to it so that the cover will hide the dirt better. Some people paint a picture on it.
The cover also includes a really cute Llama logo – I like the Etchr logo a lot!
The books include a nice full size expanding back pocket, elastic close and bookmark.
Format and Size
The books come in A6, A5 and A4 size – only landscape format.
Here are some photos comparing it with a mid-size Moleskine. The extra height of the Etchr (true A5) makes it more useful than the Moleskine book.
The Etchr book is thicker and heavier (Etchr 317g vs Moleskine 287g). This isn't a big deal in the A5 size, but I guess that an A4 Etchr sketchbook would feel significantly bigger and heavier than an A4 moleskine
Cost
Please refer to the Etchr Lab website for prices.
These books are beautiful and for the quality, I think they are reasonably priced. Etchr provide free international shipping which is amazing, but you will need to pay tax/customs.
They are available only in bundles (of three) so if you can find two friends to share the order, I think they are worth trying.
---
More about the paper
Below are a few tests of the HP and CP Etchr sketchbooks compared with a Moleskine watercolour book. Here is the key which explains what I was testing.

Note. I have uploaded these tests at larger size so please click on any image to see bigger. These are all unedited scans but it is hard to really compare the vibrancy of the colours through digital images.

Here is a scanned close up of the varied Ultramarine strokes – side by side.
Important Note: As mentioned in a separate article earlier this week, 100% cotton paper generally doesn't suit my style of quick sketching, and especially when I am working paint-only (direct watercolour).
What I am looking for in a sketchbook is very different from many other Urban Sketchers! I know that my friend and incredible watercolour painter, Shari Blaukopf, absolutely loves working on the Etchr CP. See here and here.
So please understand that the following comments relate to the way I sketch and use a sketchbook. Look at the above tests and determine which results you like the most. Keep reading for my final comments!
My experiences using the Etchr HP and CP paper:
Both the HP and CP paper held water well with minimal buckling – although it is hard to test this fully in a small page size.
I was able to work into damp areas well on the HP and was pleasantly surprised by how much granulation and varied marks I was able to achieve.
I wasn't able to work into the wet with the CP, and was struggling to get a variety of marks and edge conditions. However the paper texture is gorgeous. Texture on the CP is created mainly by the surface of the paper rather than separation of pigment. (Just for the record pigment separation is my favourite type of watercolour effect!)
My washes on both HP and CP seemed to dry duller than they are on Moleskine or Stillman and Birn Alpha – see below. The duller washes were more noticeable to me on the CP and so to offset this, I started using more pigment.
The biggest issue with both books for me was that they were not ideal for my two favourite fountain pens – Lamy Med nib and Sailor Fude. The CP was particularly scratchy and my Fude pen practically useless on it. The HP was okay but still a bit scratchy – over time I think that I would get used to it. My TWSBI Eco worked better (it has a greater flow than the Lamy or Sailor) and a Unipin fineliner worked fine on both HP and CP.
Both HP and CP felt great to use with pencil – the CP was particularly nice!
The paper is too nice to use for everyday sketches, so it was rather hard for me to get the most out of using these books during my 'boring' daily life. I would therefore like to try them for a travel sketchbook and at the bigger A4 size!

Here is another comparison of the Etchr CP with Alpha and Moleskine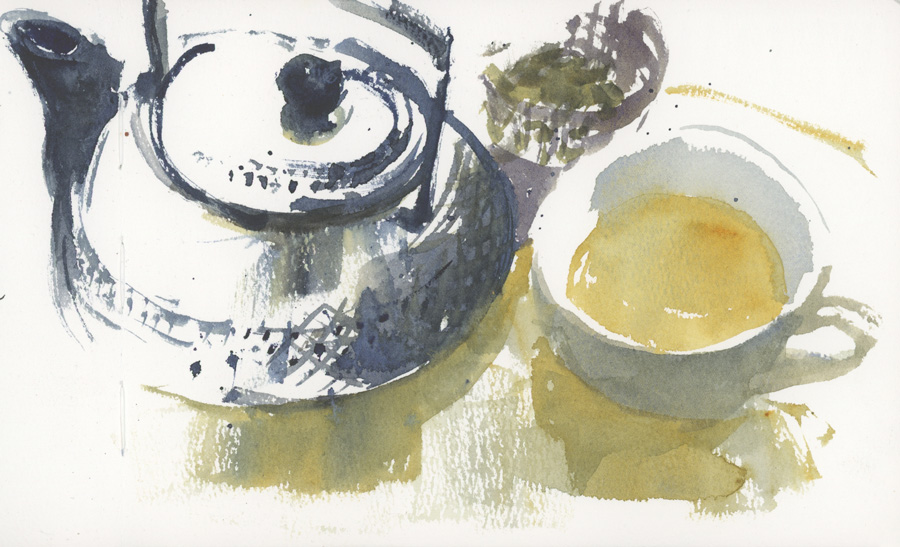 As mentioned in the paper article, the only way I could successfully use the CP paper was to use more dry brush technique – here is the teapot sketch again.

And another sketch done on the CP at Balmoral beach.

Compared with a very quick sketch done in the HP sketchbook at Sydney Observatory.

And here are two ink sketches done on the HP (Lamy Joy on left and Sailor Fude on right)
---
Final comments
The Etchr HP and CP books are absolutely beautiful sketchbooks. I love the cover, the size and the feel of the thick 100% cotton paper. Both the HP and CP paper are gorgeous.
I believe that most sketchers would love this paper to paint on as it makes your washes look beautiful and smooth. If you draw with an EF nib and/or like to write a lot in your sketchbooks then you might want to try the HP first.
The only way to really work out whether a sketchbook will work for you is to try it, so I can't guarantee that these books will be perfect for you. However, if smooth watercolour washes is what you want to achieve, I have no hesitation in saying that you should consider trying one of these books.
Thanks to Etchr for sending me these two A5 books to test. I intend to purchase an A4 sized HP book to try next.
---
Please let me know if you have any questions and I would love to hear from anyone who has used these books!
---
Related articles :
---