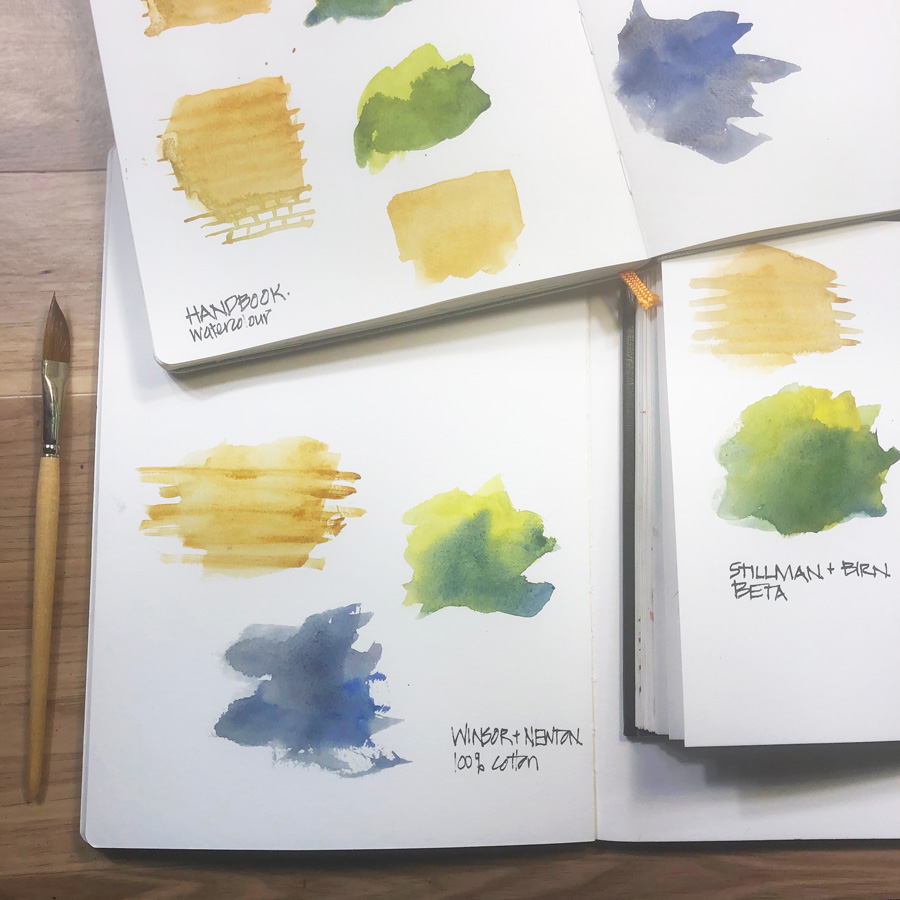 As mentioned in my previous article on how to choose the best sketchbook for your sketching, I feel it's important that the paper is good for both ink and watercolour. Today, I want to explore this idea in a little more detail and in particular I want to explain why I believe the best paper for watercolour painting might not necessarily be the best paper for quick urban sketching.
But before I go any further it's very important to note that there are many different ways of using watercolour. I use watercolour in a very unconventional way and so this article is going to represent my own preferences which are certainly not standard in the urban sketching world. I'm not making recommendations, but simply stating how I choose paper according to the way that I work – my quick and spontaneous approach to watercolour. I hope that you will find this interesting and then share your own preferences in the comment section at the end.
What I'm looking for when it comes to sketchbook paper
As my purpose for sketching is to record my life in images and text, the paper must be good for ink as well as watercolour
As I work fast and never wait for a wash to dry, I want to be able to work into damp washes and achieve texture.
I want to be able to achieve a variety of edges and lots of granulation.
I also prefer white paper and I want my washes to be vibrant
For everyday sketchbooks, I want the paper to be less precious (under 200 gsm) but I want better quality paper for my travel sketches
As long as I achieve items 1-3, I don't mind using paper that isn't true watercolour paper, especially for my everyday sketches ie. I don't mind 'bad marks' or buckling paper.
Important characteristics of paper
I don't want to get into a detailed discussion of paper (you can read more at the Handprint site here) but three aspects that I'm particularly interested in are:
Paper fibre. 100% cotton is considered the best paper for watercolour as cotton absorbs moisture and keeps the paper damp for longer, preventing hard edges when working in damp areas. Cheaper papers are either 100% wood pulp or have a component of cotton.
Sizing. A coating (such as gelatin) added externally and/or internally to the paper fibres to control the absorption of water to prevent bleeding and feathering. A lot of external sizing will make the washes sit on the surface of the paper for longer, causing watercolour beads to settle which in turn creates backruns.
Surface texture – the most common ones being rough, cold press (medium texture) and hot press (smooth). Rough and cold press create lovely textures but hot press paper is generally considered harder to work with. The lack of texture and the compressed fibres on the surface means that the washes stay on the surface of the paper longer increasing the changes of back runs and hard edges.
To achieve items 1-3 in the above list (the most important for me) I like a paper which is smooth enough to draw quickly with a fountain pen, and will also let my washes to stay on the surface for a little while so that I can work with them to create texture, but at the same time be fairly quick drying if I apply thin washes.
These paint-only (direct watercolour) sketches of Notre Dame in Paris and Casa Mila in Barcelona were done in less than 15 minutes in a Moleskine Watercolour book. I could not achieve these results in many other commonly used sketchbooks as I'm very dependant on getting hard marks when painting into damp washes on the page.
100% cotton Cold Press(CP) paper is generally too absorptive for me. The paper takes too long to dry and as I rarely am patient enough to let it dry totally, my second washes blend in to the first ones. This often results in a smooth watery wash which is not what I wanted. If I actually wait for the first wash to dry I normally find that the second wash has too many hard edges around its perimeter. A lot of 100% cotton cold press paper is also hard to draw on with fountain pen and because the washes sink into the paper fibres, the colours can be less vibrant. You can see some more examples of this in a recent article of teacup sketches, and further discussion on this issue in an older article about using a Pentalic sketchbook here.
Here are two examples of trees:
In this example (Handbook travelogue watercolour book which doesn't mention any cotton component on the label) my second wash merged into my frost one. I had to wait until they were completely dry and then I added another layer. This third layer had hard edges everywhere and visibly sits on top of the earlier washes.
In the second example (Moleskine watercolour) I did this sketch very quickly not waiting for the first pass to dry. As the first pass was drying at various rates on the page, I was able to achieve a variety or hard and soft edges by simply painting over the top.
So the papers that work best for me are ones with a little texture, some sizing (but not too much) and some cotton fibres (20-30%). Here are some tests on my favourite paper – Moleskine watercolour sketchbooks – compared with 100% cotton CP and the 100% wood pulp of Stillman and Birn Alpha.
I do love 100% cotton paper but only hot press versions suit my style of sketching. If you are after lovely smooth washes and don't mind waiting for the paper to dry then 100% cotton is probably what you are looking for. But if you draw with a fountain pen (with an extra fine nib) some 100% cotton CP might be a bit too scratchy for you.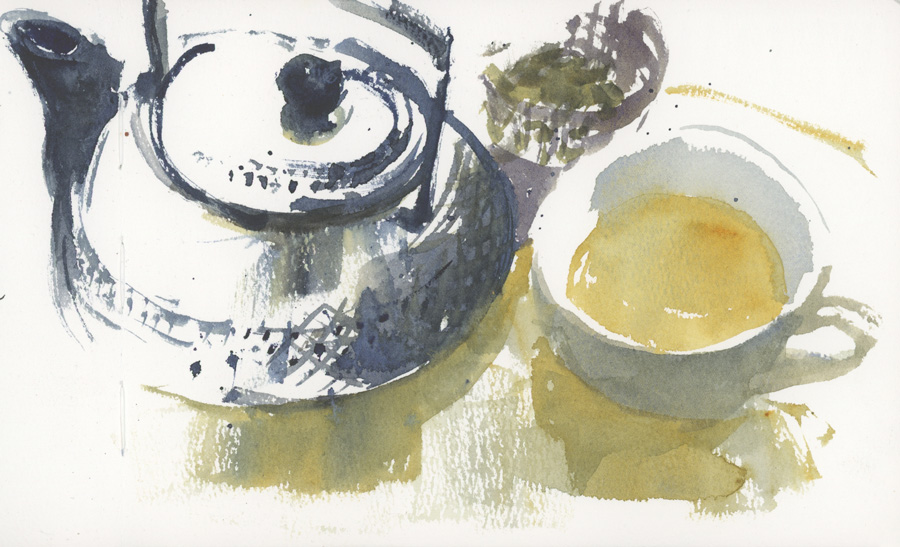 Recently, I have been testing the new Etchr sketchbooks (full review coming soon) and I realised that the only way I could work in my normal way on the 100% cotton CP book was if I made my washes much drier and relied on dry brush for texture. I achieved a result that I was happy with in this teapot sketch, but haven't yet reached the point where I can get consistent results working this dry. I'm still working on this approach, but it's a very different way of painting and I personally prefer using more water.
Even though I generally can't achieve the results I want with 100% cotton CP, there is no doubt that it is the best for creating lovely realistic skies. It is really hard to achieve soft washes on paper with a lot of wood pulp! As the focus on my urban sketches is normally on the street scenes/buildings etc, achieving realistic skies is a big emphasis. If I did more landscapes, then skies would be more important. So choosing paper because of the skies it can produce is not a priority and I'm always exploring new crazy ways of doing 'expressive' skies, embracing the 'bad' marks. If you are enrolled in SketchingNow Watercolour On Location, check out the section on skies in Lesson 3 theory.
For more paper tests: Please refer to SketchingNow Watercolour course Intro Lesson 3 and Lesson 4 Demo 1.
---
So the conclusion of this long article is a little bit controversial! As I use watercolour primarily for very quick on location sketches, I prefer lesser quality watercolour paper ie. not 100% cotton paper!
These papers are great for ink drawing and text and enable me to create lots of fun textures without having to wait for washes to dry. Yes, I often get lots of hard edges and patchy washes, but these are an important part of the way I work.
But actually, the real conclusion: There is no one paper that suits everyone! Test out different paper and see which provides the results you want to achieve.
---
So what is your favourite paper to use and why?
---