Looks like we are having a colour chart week. The next on the agenda is my collection of watercolour pencils.
I have always had some watercolour pencils in my kit (since Sketchbook Number 1) but it has taken me years to find a way that I am really happy with since they are only ever a part time use. In fact in the early days I often used them to patch up a bad watercolour wash – would not do that now.
I don't like that they:
lift too easily – too much water and they disappear
lose intensity when you add water (with the exception of a few colours that go way too intense with water)
are so opaque.
But I do like using them:
instead of ink for outlines
as setup lines (I have been using brown ochre as a setup pencil for the last 12 months)
for texture or small detail
AND I discovered last year that putting paint over them was much better than just adding water.
I have tried only carrying three pencils and then 6… but at the moment I carry 10 with me. Oh! no…it is actually 11 as I recently added cobalt green!
I am happy with this collection. I can achieve a good range of colours but if I am worried about achieving an exact match I can adjust when the watercolour is added over the top.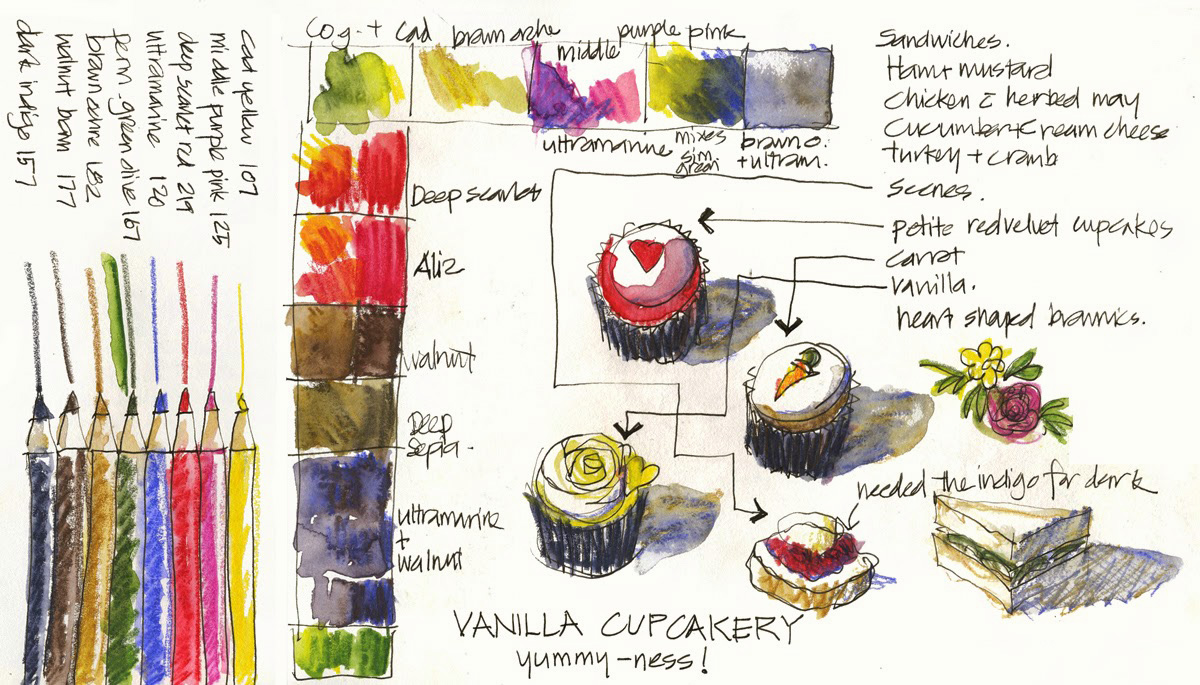 I really focused on what colours were in my kit earlier this year when I taught a High Tea workshop for Rockdale Council. The addition of a bright green and the middle purple pink was a definitely a teacup response!
I then added a few more earth colours to the set when I went to Tasmania in May and taught 2 workshops inside the local museums there. It was then that I seriously looked at the way I was using them. Putting down the colour richly and boldly and then being very restrained with water.

Recently however, I have developed a new way of working with watercolour pencils (WCP) that perfectly suits the occasions I think of using them. Those occasions are when I have NO time… and what I am doing is mixing up pencil – pen – paint.
Lynne Chapman got me thinking in Brazil… because she was just working with coloured pencils she was able to attempt a sketch at anytime. The ease of colour with WCPs is very liberating.

Last night I did this quick sketch of my suitcases – I am off for a few days to Newcastle for a workshop and a rare full day off (in association with my rest day, Sunday – I will have 2 non work days – that is so needed at the moment,)
Here is the first stage – I very quickly drew the outlines in the colour and roughed in some shading using a little mixing of colours.

Then I added some ink OVER the WCPs (solves the opacity problem) and then paint… and then a little more ink. Did the same for the camera sketch as well.

And another one of my paint tubes…
This way of working is super fast – it is not a polished sketch but at least I am sketching and I am happy with the freshness of these sketches. No overworking here!
---
Subscribe to my mailing list for my monthly newsletters including first notification of my new SketchingNow Online Sketching Courses and face-to-face workshops.
---