As mentioned in yesterday's article, I decided to revisit my decision to use Schmincke French Ultramarine.
A little digging into my archives revealed that I started using it in place of Daniel Smith Ultramarine Blue around Dec 2018 because, to quote, 'the DS version dries very hard in the pan.'
My good friend Jane Blundell had introduced me to the DS Ultramarine Blue (as opposed to French Ultramarine) a number of years before. There isn't a great deal of difference between these two, but I thought Ultramarine Blue mixed slightly better greens. Also it was cheaper. More about that comparison here.
Even though I started using the Schmincke French Ultramarine purely because I was getting frustrated by the hardness of DS Ultramarine Blue, I soon discovered that it was more granulating. I fell in love with how it reacted with other pigments, particularly when I mix a pale neutral combining it with Transparent Red Oxide (my version of Burnt Sienna) and Monte Amiata Natural Sienna (my version of Raw Sienna).

I thought it would be fun to test the Schminke French Ultramarine against three other versions I have used in the past. The two versions by Daniel Smith as mentioned above and Winsor and Newton French Ultramarine.
The swatches of these three other versions were done with fresh paint, while the Schminke test was done using my current pan (dried tube paint).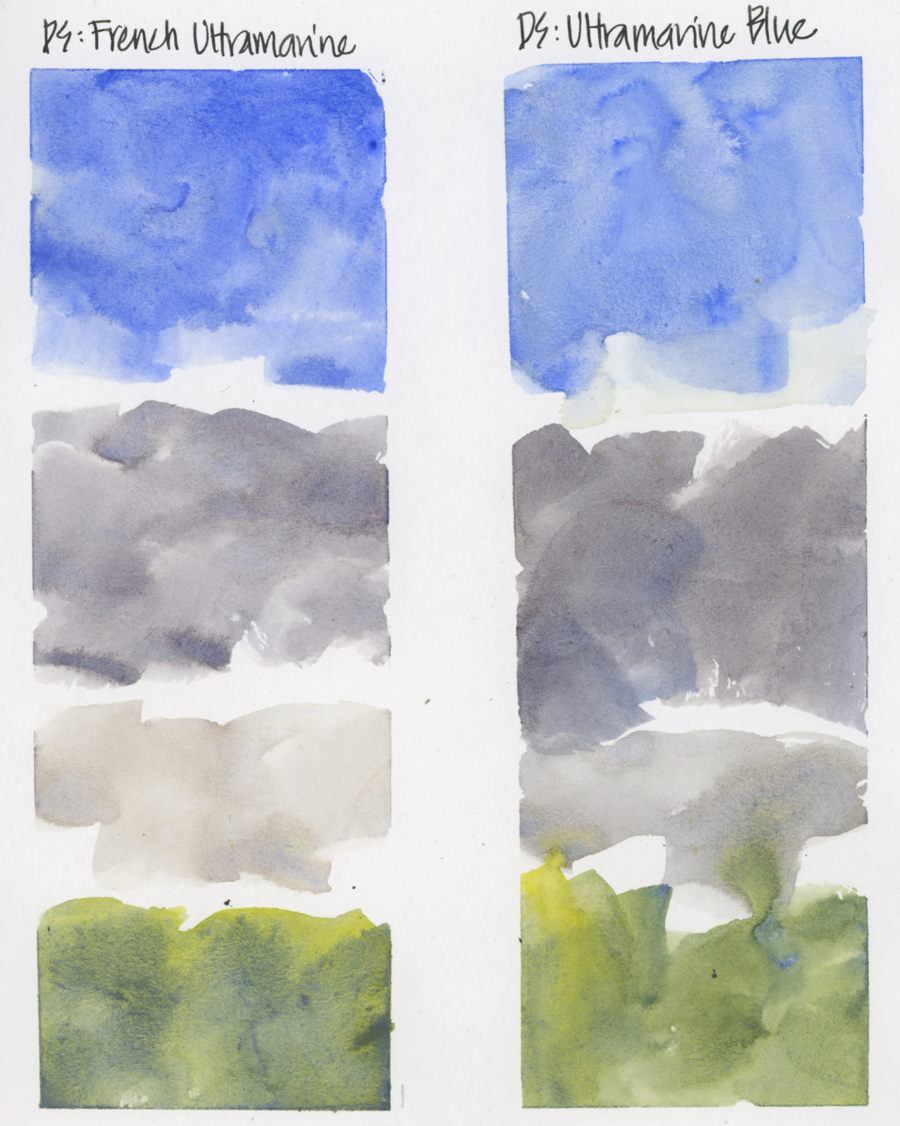 It's always hard to mix consistent washes when you do swatches like these (you can't tell if the washes have exactly the same amount of pigment and water) but I did think at the time that maybe the fresh paint swatches would have an unfair advantage (more vibrant result due to a greater pigment load) but this was not the case.
Also the Schmincke swatch wasn't pure (brush/pan not clean) so I tried again. Hmm, there still seems to be a trace of something in there (the golden edges in places) but at least it confirmed to me that the Schmincke French Ultramarine is not quite as vibrant as the other brand.
Anyway, I think you can see clearly why I'm in love with the Schmincke French Ultramarine! I don't always go for the most granulating option (such as Turquoise) but for these mixes it's what I'm after.
Note: I next want to revisit Aquarius' version as I remember being really impressed with their version back in 2019 when I was extensively testing a lot of colours from this brand.
---
What brand of Ultramarine do you use?
---