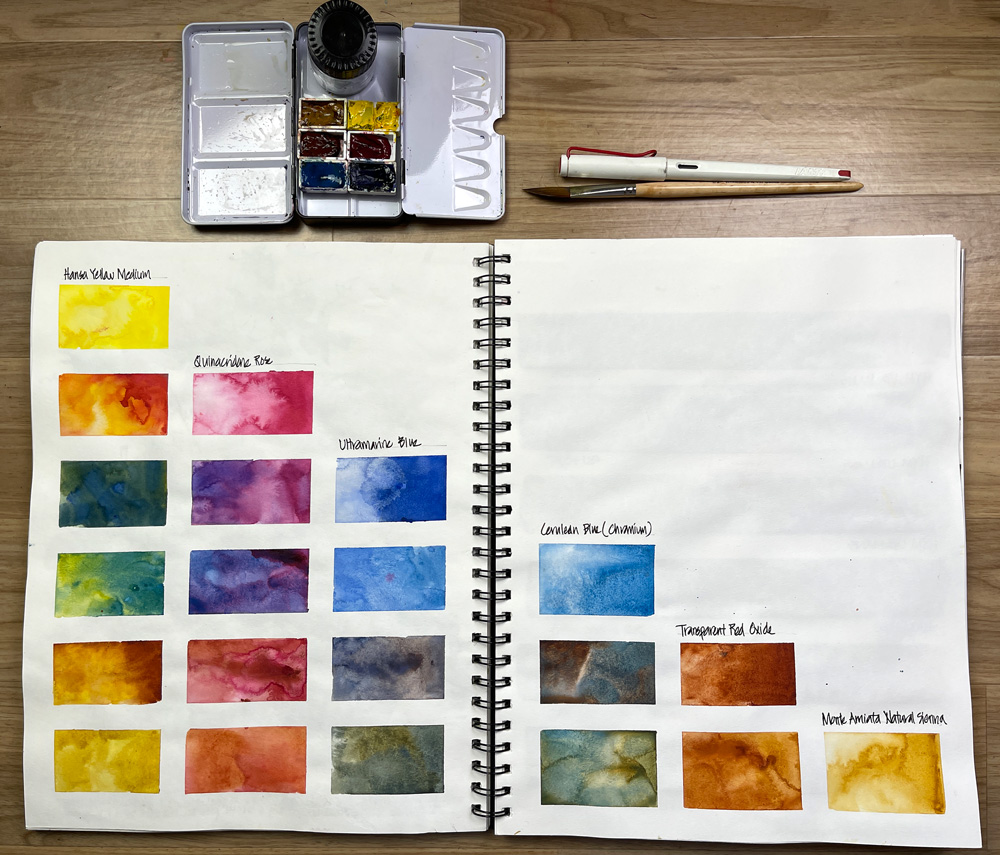 This week in my SketchingNow Foundations course (we started on Wednesday) we're looking at ways to get to know (and love) the tools in our kit. It's really easy to get addicted to buying new art materials in the hope that somehow a new tool or colour will magically improve our work. (Have you ever fallen into this trap?)
However, the really important thing is to properly test our tools and work out whether they are a good fit for us and why they should (or should not) be part of our sketching kit.
As mentioned in my last article I've set up a brand new tin containing a 6-colour palette to use for Foundations. These colours are what I used when I filmed Foundations and they are the core of my full palette (see here). This new palette is what I'm using in the mornings during my coffee and sketch session and so far it's been really fun to use a limited selection again.

As many of you know, the characteristic of the pigment of a specific watercolour paint is as important to me as its hue! Combining different kinds of pigments (granulating, staining, sedimentary, transparent etc) is essential to achieving watercolour magic – to create a lively 'pigment party'. So whenever I restrict myself to 3 or 6 paints I really really miss the watercolour magic that I normally get for my larger palette.
I also don't typically mix my paints a lot so with a smaller palette I end up doing much more mixing (which in turn makes my water get dirtier more quickly!)
So on Wednesday night, when we officially started the Group Run-through of Foundations, I decided to do a colour chart for my 6-colour palette and then I did a little targeted mixing for some important washes.

The mixing grid that I did was the biggest I've ever done before (full double-page spread in my 11/14 spiral Alpha). The generously sized swatches enabled me to get an idea of what kind of pigment party I can achieve with each combo.
I was also intentionally dropping water into some of the washes to test 'backrun tendency.'

Look at some of these swatches!
As for my mixing strips…

I wanted to explore different ways of creating Australian greens for my bush (forest) sketches and so most of these use 3 different paints.
Note: Whenever I do mixing swatches I try to replicate my usual brush strokes and so I'm constantly adjusting the colours in the mix and the amount of water.

On the second mixing strip page, I was testing greys. I was pleased with these results although I do miss Potter's Pink!
It will take me a little while to get used to my limited palette but I'm enjoying the challenge!
---
Finally… if you are wondering, it's not too late to join the Group Run-through for Foundations! 🙂