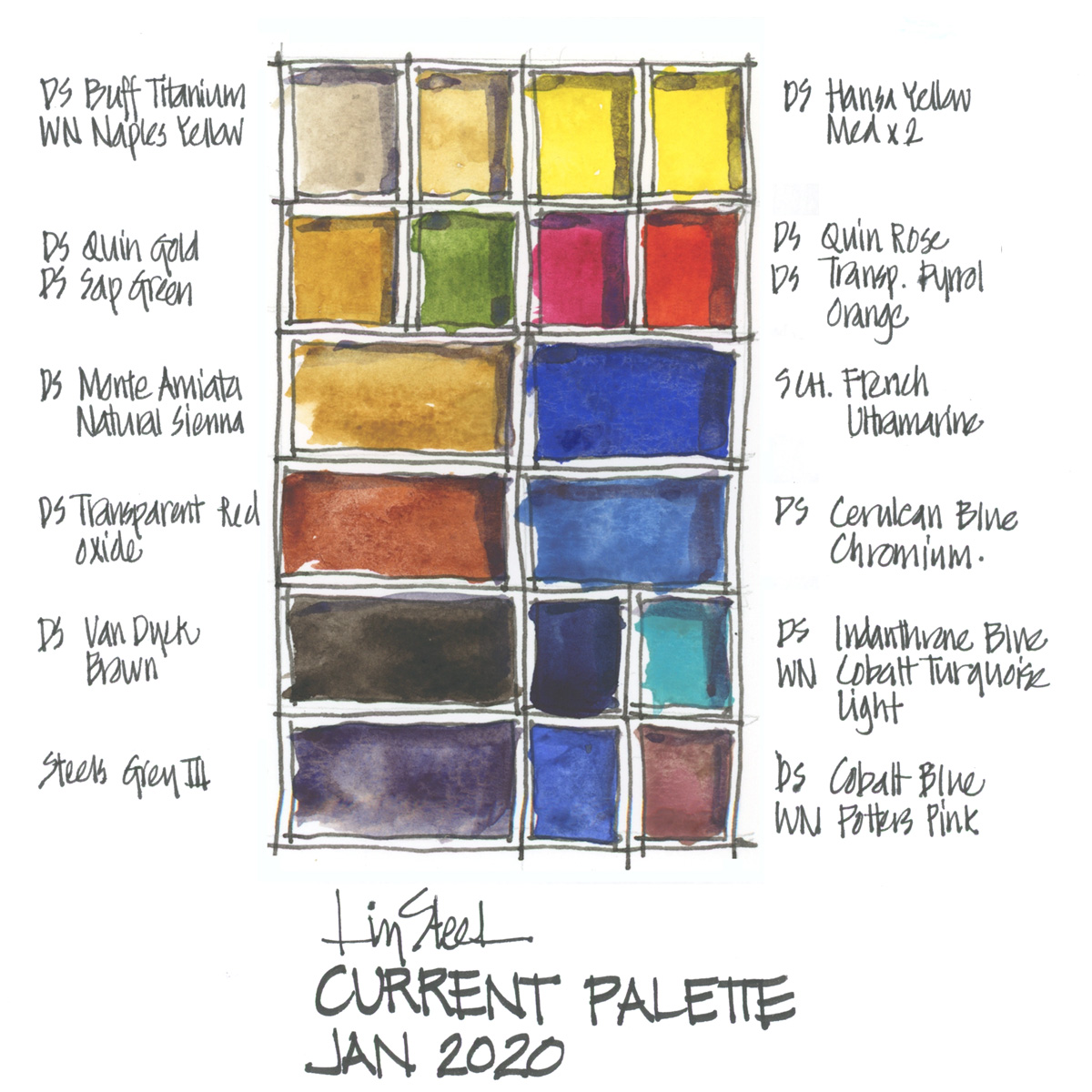 Although my palette hasn't radically changed in the last 12 months, I have been doing a lot of tweaks and testing during 2019. So I thought it was time to do an update.
---
What's in my palette
DS Hansa Yellow Medium PY97 (two pans – see here for more)*
DS Transparent Pyrrol Orange PO71
DS Quinacridone Rose PV19
SCH French Ultramarine PB29
DS Cerulean Blue Chromium PB36*
DS Indanthrone Blue PB60
WN Cobalt Turquoise Light PG50
DS Cobalt Blue PB28
WN Potters Pink PR233
DS Buff Titanium PW6
WN Naples Yellow PW 6, PBr 24
DS Quinacridone Gold PO49
DS Sap Green PO48 PG7 PY150 *
DS Monte Amiata Natural Sienna PBr7
DS Transparent Red Oxide PR101*
DS Van Dyck Brown PBr7
Steels Grey III (a pre mix of WN Cobalt Deep Blue with a little DS Quin Burnt Orange and a touch of DS Quin Rose)
Note 1: DS = Daniel Smith, WN = Winsor Newton, SCH = Schmincke
Note 2: I am listing them as I think of them – right column first and then left column (as I'm a leftie) – so I apologise if this list doesn't relate to the way you are probably reading the above image!
Note 3: Cobalt paints have toxicity issues so please make sure you are aware of this. Check out this great section on the Handprint site about the topic.
* Updates in 2022
Reduced Cerulean Blue Chromium to a half pan and added DS Manganese Blue Hue (PB15) – see more here.
Removed Sap Green and now using a pre-mix of HYM and FU in some palettes – see more here.
Currently using both Transparent Red Oxide and DS Quinacridone Burnt Scarlet PR206 – see more here.
Added Hansa Yellow Light into my palette as well
---
More details
For more info on why I have chosen these particular colours please check out my Colours In my Palette series. It will answer all your questions!
---
Watercolour Tin / Palette (updated Jan 2022)

I have two palettes that contain these colours:
1. A 12 half-pan metal tin
This version is made by the Australian brand Derivan but Schmincke also make a version. This is the perfect size for me, small but with plenty of room for paint and mixing. I prefer a tin with 3 mixing wells in the lid. Related articles:
Setting up my palette
Mixing in my palette (and why I prefer 3 wells in the lid)
2. Folio palette by ArtToolKit
Find out more here.
---
What has changed since the last palette

Basically, I haven't changed it much! Despite the following tweaks during 2019, I have returned to the same basic palette. The only major change from my previous 'current palette' was to add WN Naples Yellow back into my palette. To fit it in I tried reducing my Transparent Red Oxide to a half pan, but then decided to reduce Cobalt instead as I'm not using it as much lately.
Tweaks and testing in 2019:
– I tried some different Turquoise options here and here, but ended up returning to WN Cobalt Turquoise Light as it's such a creamy smooth colour. I don't need this colour to be granulating, so I prefer the WN version over DS Cobalt Teal Blue.
– I used various Aquarius during my overseas trip (see palette here) and really like these paints a lot. They are beautiful! Once I returned home I went back to my standard palette as I was teaching my Watercolour On Location course and I haven't had a chance to re-visit the Aquarius paints again. One limitation is that they only come in full pans and I need some half pans to fit all the colours I want into my small kit.
– I swapped out Lavender for Buff Titanium. I don't use Buff a lot but in the end I swapped it back as I was hardly using Lavender at all. I might try this switch again in the future.
---
Archive of my previous 'current palettes' can be found here.
Note: I'm still working through my massive archives to find more old posts detailing my palette and will add to this list as I find them.
---
Further Reading
Other articles to check out:
My watercolour section – with lots of things to consider when choosing your colours
Recommended minimum palette of 6 colours
A basic 12 colour palette
Putting together my palette for a big trip
Plus:
Brenda Swenson on filling a palette
Jane Blundell on filling half pans
Jane Blundell on ramp filling pans