Just a quick weekend post….
Saturday Morning: Nothing like a visit to my favorite cafe The Missing Piece at Macquarie Centre to start my weekend – especially as I am doing some serious planning this morning while I sip my latte. Got lots of exciting projects to map out this year. Love the background buzz in this cafe.
So what I am I planning? I will be revealing more about big projects for 2016 over the next few weeks, but I can tell you now that I am spending time looking through sketches and photos from previous trips to the UK in preparation for my July trip associated with the Urban Sketchers Symposium in Manchester. Early bird registration for this event will be opening soon – I am looking forward to seeing many of you there.

But in the meantime… I want to share with you a photo of Rèinigeadal, Harris (Isle of Lewis) from 2010. One of the more remote parts of Scotland I have been to (and sketched!) – the first road access to this hamlet was in 1990 but it is a thriving place now!?! As my sister lives in this part of the world (but not in Rèinigeadal itself!) I am hoping to visit her this year and hoping for lots of days like this one – warm and sunny. Yes… I'm dreaming!

So here are a few photos of my 2010 sketchbook from my last visit to the Isle of Lewis.


Ah! I love Scotland so much!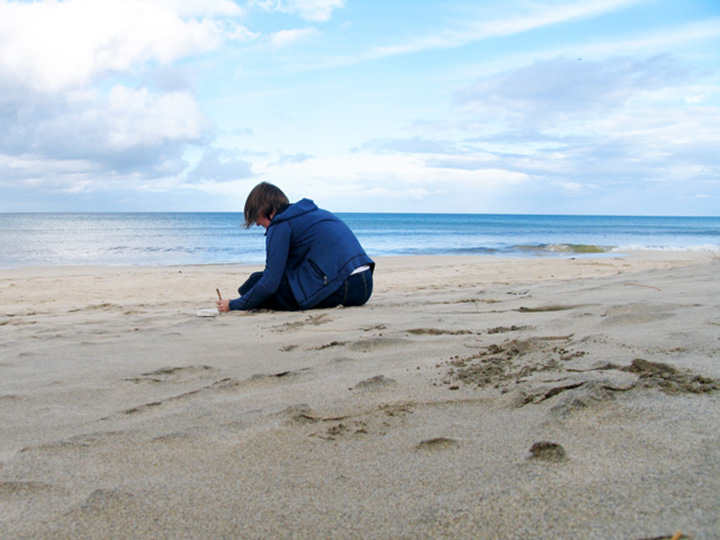 And the only photo I have of me in action from back then. On the beach at North Tolsta, Lewis.
A special wave to all the Scottish readers – especially those that live on islands in the Inner or Outer Hebrides!