Well I am back home after a very busy week in Tasmania and with a LOT of sketches to scan. This photo shows the pages of my Stillman & Birn Alpha 9 x 6 landscape sketchbook and the Clairefontaine Goldline A5 spiral landscape sketchbook that I completed during the week. I purchased the second book at Birchalls in Launceston when I realised that I would run out.

I normally take a A4 Moleskine watercolour book (here is a link to the 2 sketchbooks I filed last year) but I decided this trip, as it was a work visit, just to use an everyday book. This decision had a BIG impact on the way I sketched and despite the thin 140gsm paper, I am totally in love with this Goldline book!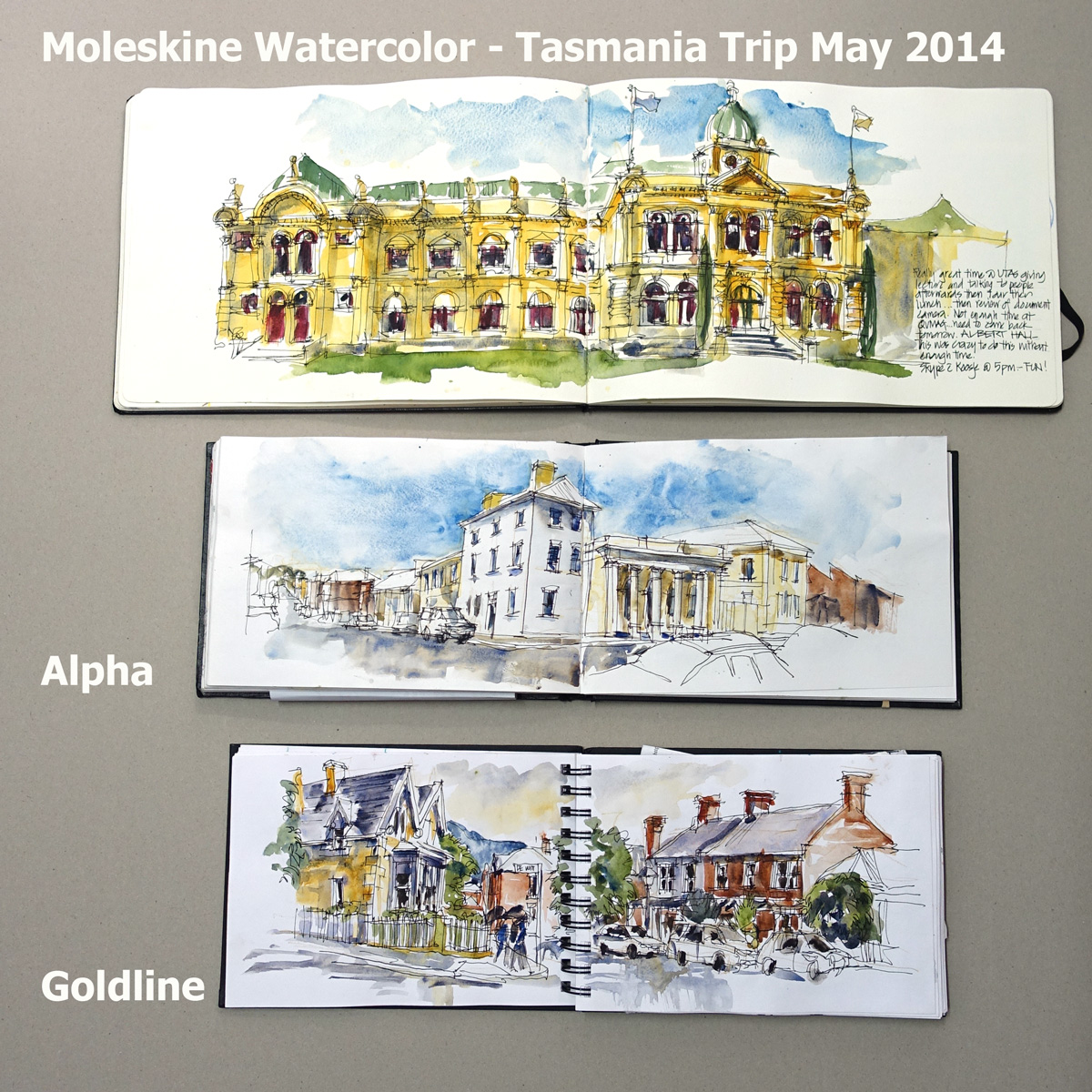 Its limitations created new opportunities and while I will not be buying another one, using it for this particular situation was perfect. It is remarkably robust paper and I have loved painting with a LOT of water on it, doing everything I would normally do with the moleskine. The only thing I missed was the tooth for using watercolour pencil and the spiral binding is not great for doing panaromic sketching so of course I would have been a lot happier if I had brought a spare Alpha with me! The less than ideal paper of the Goldline however was ideal for the experimentation I was doing.
So here are a few pages of my rough sketches and a few initial thoughts from the trip.
I had very low expectations, partly because I was in planning mode for a very exciting travel sketching workshop (more soon!) and partly because one of my big takeaways from my last trip (Brazil) was to focus more on recording (like an architect) rather than trying to produce 'serious sketches' like a painter! You can read about these ideas here. I was amazed how I so easily picked up from where I left off.

I was thinking about the non stop sketching of Lynne Chapman and Suhita Shirodkar when we were sketch travelling together in Rio, the rapid sketches I did when Marc Holmes and I were given 20 minutes inside the grounds of a private house, and the final note taking sketches I took on the last afternoon in Sao Paulo when doing a tour of the Glass House – both of these pages are shown above.

I was also thinking about the content of my travel sketching workshop in Launceston and exploring these concepts in my own work. Those of you who did my Foundations course will understand how much I love drilling down to a core concept and then working it out in a more advanced way. So, while the sketches I did last week don't represent what we will do in the workshop, I was mentally testing and exploring ideas – and most of all I was taking huge risks. Trying to sketch in crazy time frames (often under 10 minutes) trusting and pushing my reflex sketching skills to the extreme and really thinking about the best way to use different materials.
Above is a very experimental sketch of a street view in Port Arthur and this is an example of tackling a complex scene at a rapid pace. The lighting was flat so I had to make quick decisions on edges and shading and to mix it up sprayed some water or the top while I was working. Without using such a crazy approach, there is no way that I would have attempted this scene in this limited time! So it is very special that I do have this sketch now in my book as it is a very important memory from my first visit to Port Arthur.

One of the most important things when it comes to travel sketching is to have the confidence to go for it, and attempt something (anything!) when you see something that you want to record. This is the key idea behind the content that I am developing for the workshop!

It is all about the act of recording not the result – and having a less precious and smaller sketchbook made a HUGE difference for me. I didn't make any effort to design the pages like I normally do. Instead I just started sketching without thinking about the overall spread.

I was trying to really understand the layout of Launceston and ended up sketching a lot more street scenes rather than individual buildings. This was very exciting and the smaller sketchbooks helped with this too since I couldn't get caught up in details.

I also did a number of sketches in ink only, without any colour. These two sketches were the last that I did in Hobart and I really love this spread! They were done in 5-10 minutes (at a guess) and standing up.
Of course I will be doing the big scanning job of the two sketchbooks, but I always like to do a quick initial blog post in order to record my first impressions on returning home.
Yet again, when I go on a trip, I have an amazing time of development with my own art, not simply seeing new places and 'doing a few sketches'. The creative journey is more important than the 'travelling'.
More soon…
---
Subscribe to my mailing list for my monthly newsletters including first notification of my new SketchingNow Online Sketching Courses and face-to-face workshops.
---