I am on the Isle of Lewis for a week staying with my sister, brother-in-law and 3 year old niece. The priority of this part of my big trip is to spend quality time with them so sketching is secondary. But I am still thinking about sneaking in a sketch or two when I can. I am having to make the most of the tiniest opportunities and take lots of risks (attempting complex scenes in minutes).

Do you find it hard to sketch when you are with people? Well, it is hard! But if you take risks, and completely change your expectations (tell yourself that even a single line is better than nothing) it is possible to sneak some sketching in. The more often you get your sketchbook out in front of others the more often they will make allowance for you. But sometimes you just have to resort to taking a few photos.

So this week I am happy if I get one or two sketches done per day – in fact anything is a bonus. But most of all I am so happy for this chance of spending quality time with my family. My wee niece is keeping me occupied – "What is Aunty Liz doing?" – I love it.

Here is a single image showing every spread so far – I haven't finished the notes on some pages.

I started off with an early flight – small plane and only about 20 people on it.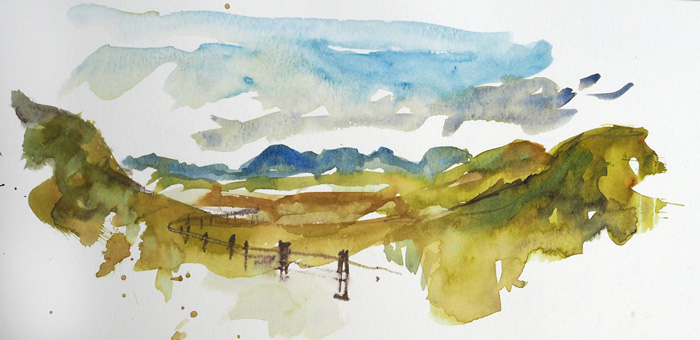 A wee walk to the local pond and I got my first view of the hills of Harris. Lewis is flat, Harris is hilly. This sketch only took a few minutes which is handy as I was on a walk with two three year olds and their mothers.

Despite my 4am wake up at 9pm when I noticed the glorious evening I had to go out for a drive. Not sure if I will see weather like this again, but I am happy I had this one. When in Scotland I take whatever weather I am given. I love the quality of light and the big skies of this place.

The next day we drove along the west coast starting at the famous Callanish Standing Stones. I didn't really get to finish my sketch and I was in half a mind to finish it off later.

But I then saw these great watercolour effects and decided to keep it as it is.

Next was the Blackhouse village. I opted out of a walk down to the beach ("Why isn't Aunty Liz coming with us?") so I could get a sketch. I only got the basic washes and a few lines done at the time but progressively worked on it during the day.

Lunch at Ness – I sketched the view of the beach while we were waiting for our food and then the harbour while my brother in law was watching diving garnets (only a few minutes).


I finished the harbour sketch off while my niece played in a nearby park. Just for the record it was freezing!

Today was wet and after a visit to a local cafe and tea store next door I retreated to my car and sketched the view from the carpark.
---
To read other reports from the trip click here
---