On Saturday at 4am I left the warm sunny weather of Tuscany and headed north to Scotland where I will be for two weeks. My first destination was Edinburgh – I seriously love the city. I spent two days sketching and in between had a wonderful Sunday visiting two different churches.
So here is a brief summary of some of my adventures – note: I did a few more than I am sharing at the moment.
My first sketch was of John Knox's house on The Royal Mile (above) – a building that I have wanted to sketch for years.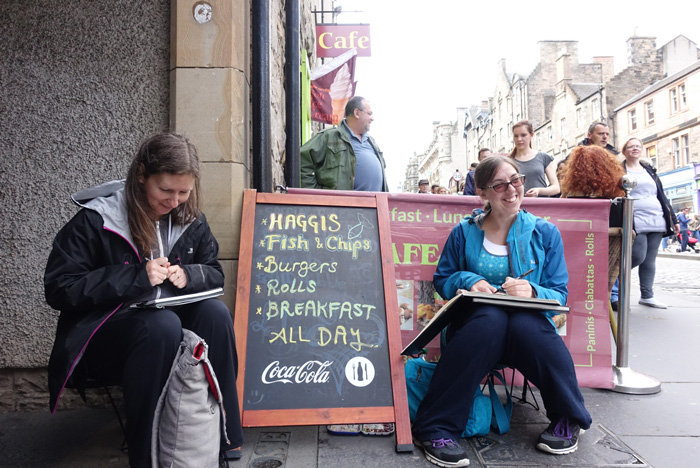 Lots of fun hanging out with Esther (again!) and Kathleen – 2 urban sketchers in Edinburgh.
It was such a huge adjustment to suddenly find myself sketching on the streets in Scotland after two weeks in Italy. The cold (and rain) had a big impact on the drying time of my paint but also the culture is so different!

It's a bit tragic I know, but my first afternoon in the UK was spent having high tea at The Scotsman Hotel. I am not really a big cake eater (an occasional scone or small slice of plain cake is all I need) so high tea is always way too much for me – didn't touch the cake tray.

Late Saturday evening I sketched St Stephens church which features in the BBC version of Elizabeth Gaskell's North and South. Considering I had woken up at 3am – sketching after 8pm was pretty good going.

A dark grey cool Monday morning – I had to start with a sketch of Edinburgh Castle.

I roamed around The Old Town looking for interesting street views but found it harder than I expected. Settled for a view from Fleshmarket Close looking towards Cockburn Street. I sketched the opposite direction a number of years ago with Stuart Kerr.
I am certainly seeing the warmth in the stone this trip which I didn't see 6 years ago.

I next did a quick sketch of St Giles and afterwards decided to walk to the top of The Royal Mile and the entrance of Edinburgh Castle as I haven't been there for 16 years. The view is rather flat (not to mentioned blocked by hordes of tourists) so it was fun to create more differentiation between the layers. It started raining and I let the rain drops add a bit of texture.

I spent the afternoon and evening with friends who live on the outskirts of town, but just on the way to the train station I duck into the New College courtyard. Wow! I just had to draw it.

There is still SO much in Edinburgh that I want to sketch, including this view one evening with golden light.
This morning (another 7am flight) I headed to the Isle of Lewis. Hoping to slow my pace and spend quality time with my sister, brother-in-law and wee niece.
---
To read other reports from the trip click here