I have quite a bit to catch up on in regard to sharing my adventures from this trip, so I'll use this week to put together a few articles. I'm having a solo week of rest and work in a small village on the Fife coast in Scotland. A much needed break before heading to Porto for Urban Sketchers Symposium – the last phase of my massive 11 week trip.
After my morning in Glasgow (see here), I flew to the Isle of Lewis for 9 nights, where my sister and her family live. This is them at the Callanish Standing Stones.
I was expecting this to be a very busy time, but it turned out that I had quite a lot of solo time because my sister was working. This gave me until 4pm each day to catch up with work, write blog posts, hang out in cafes, and/or go on my own adventures throughout Lewis and Harris (the southern part of the island).
Scotland has been experiencing a remarkable summer – it hadn't rained on the Isle of Lewis for three weeks but when I arrived the rain returned. But I am thankful that it didn't rain all day during my stay. This was because the wind was so strong! This wind made sketching outside very difficult but thankful I was able to sketch from inside the car on occasions.
I have a lot of to share, so I'll do it over two parts – this first one will be about Stornoway and my short adventures In Lewis. Part 2 will contain my long day trips.
---
Stornoway

Stornoway is the main town in Lewis with a population of 8000. It's not big enough to have a bookstore (something my brother-in-law is not happy about!)
There is a nice harbour, but sadly, I've never had the time to sketch this view. Maybe next visit!

View of the main shopping street. I was battling strong winds at the time.

A quick view standing up of Martin's Memorial Church using my Sailor Fude pen with Brown De Atramentis Document ink – yes, this is done with permanent ink! In order to create the shading, I was working super fast, so that I could move the ink with my waterbrush before it dried. In some ways I prefer using permanent ink rather than water-soluble ink for this type of sketch, as the ink which has dried doesn't move, creating crisper lines.

I had two visits to Artizan coffee – on the second one I had tea and scones. It's been ages since I last had this treat – this used to be more a regular part of my life – do any of you remember the old days of the T2 tearoom??
It was nice that the owner remembered me from last year!

I was staying in a gorgeous Airbnb close to town, so on my walk home one day, I decided to sketch Lews Castle. The wind was very strong, but I was fighting it. However, when the rain started, I had to stop.
But what do you think? Is it finished?
I think this aborted sketch is a great example of how few marks you need to tell a story. If you don't already know, this is something that I am very interested in, and I'm always striving to say more with less. It's particularly useful for travel sketching!

And just for the record, after I had packed up, and started walking home, the rain stopped and the sun came out!

This is the view from my Airbnb at 2.30am. It's light from 4.30am – 11pm and the sky never gets dark.
---
Morven Gallery

One of my favourite places to visit is Morven Gallery – a gorgeous Art Gallery and Cafe. It has a great selection of local artwork and some great cakes.

I did these sketches while with my sis and her two wee kids, so it was a little crazy.
It's lovely that the owner knows who I am (both because of my relatives and from our conversation last year) but also it was fun that the girl working in the cafe, asked me "Are you Liz?" Apparently she follows me on Instagram and used my work for an Art College assignment – small world hey?
---
Callanish Stones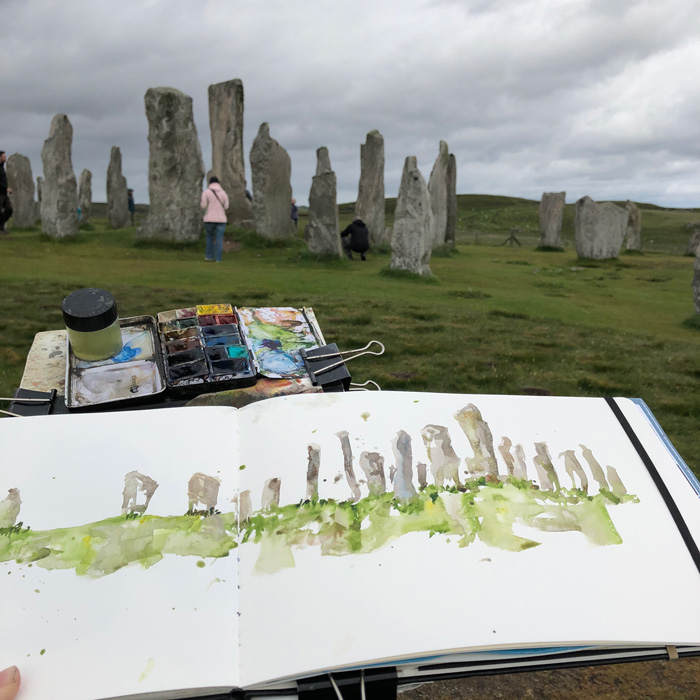 These standing stones are the most famous sight on the island (so lots of tour groups visit). I did this super quick sketch standing up, battling the wind while the family walked around. This was a great use of direct watercolour as I was able to complete it in record time.

I had so much fun with my niece and nephew this trip. My niece still gets the Callanish Stones mixed up with cemeteries. Two years ago whenever we drove past a cemetery she would cry out 'Callanish Stones' and this trip when asking her what was special about the Callanish Stones, she replied "They have names on them!"

I have noticed that there is a distinct Scottish/Highland/Island painting formula which consists of a few buildings placed high on the page with a textured foreground of grass, flowers etc. So this was my version – I could have placed the buildings higher on the page. If you are wondering, this is the buildings at Callanish Stones and I changed the carpark into a field.
---
Port of Ness

Sitting inside Sonas Cafe on the northern end of the island sketching the view of the coastline.

A beautiful harbour!

My attempt to sketch it, once again in strong winds – at times a gust would catch my support board so I had to hold onto it well!
---
Lewis Museum

One afternoon we went to Lews Castle (and also the cafe there). It has been fully renovated in the last few years with gorgeous function rooms and a great museum. I got to see some of the Lewis Chessmen for the first time.
I did sketch them but I didn't take a photo and that particular sketchbook has already been sent home. They were hard to sketch as there is a lot of fine detail which was hard to see outside of the display box.
And at the end, we ran around the castle chasing birds!
---
Garry Beach, North Tolsta



On my last afternoon my sister took us to a beach – one I hadn't visited before. It wasn't really the weather for it as it was blowing a gale. Way too wild!

The beach was stunning and had some interesting stacks and even a natural arch. Summer at the beach all rugged up!

Here is my quick (incomplete) sketch. My sis had to hold my book up with two hands so that it wouldn't blow away.
---

And finally, a picture with me in it! Thanks Sis for a wonderful time. I love this family so much and I'm thankful that I am able to visit them as much as I do.
Stay tuned for part 2 – exploring the beaches of Uig and heading south to Harris (my favourite part of Scotland!)
---