Just for the record here are my very loose pages (which I finished at home in the same style as I sketched on location)
Great day exploring the Vietnam of Sydney- the suburb of Cabramatta with sketching friends Wendy, Annie and Alissa.
We did a lot and were surrounded by an almost overwhelming feast or sights and sounds and tastes……
Next time I want to draw the people – I feel that these pages are missing the main part of the day!
Drawing a map is a good way of remembering where we went and what places I want to re-visit next time (maybe do some serious fabric shopping???)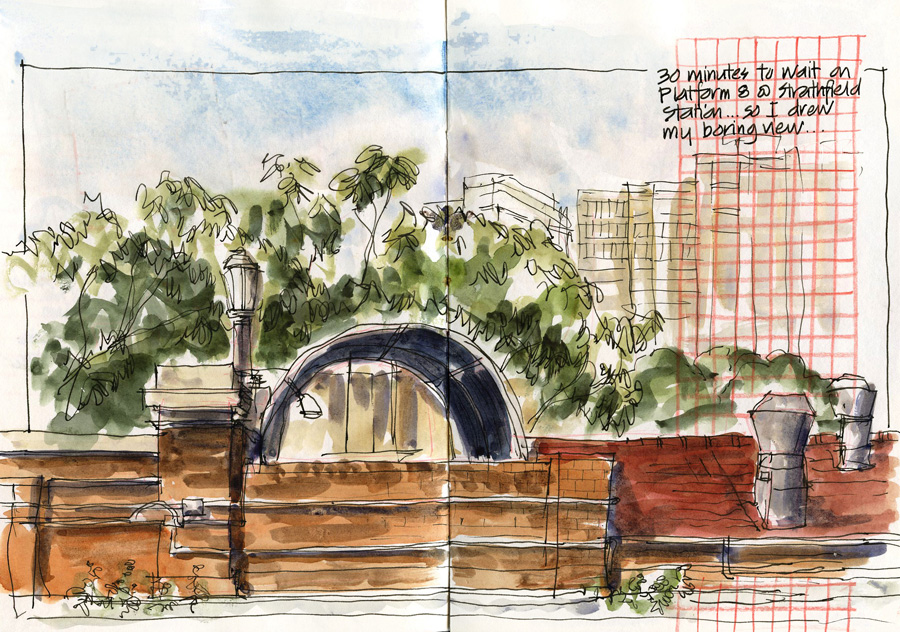 30 minutes wait at Strathfield station- I drew the view… I am afraid that I didn't find it very inspiring and that shows in the sketch… But it was a good warm up!
The freedom gate at the main plaza…

An attempt to capture the Lion Dances that were happening all day… a bit too noisy for my poor little head!

Some purchases- sweet drinks that I didn't really need and TEA (of course) I wish I could tell what the tea would be like but the labeling is very vague "Oolong tea" is not enough for me. I am REALLY into green oolongs at the moment…. The tea I bought was very nice but not exactly what I was after. And a bitter melon (to draw) that I couldn't eat. I am sure that there must be a tip to reducing the bitterness and the right food to combine it with…..

Great lunch….

Dragons for the year of the dragon….