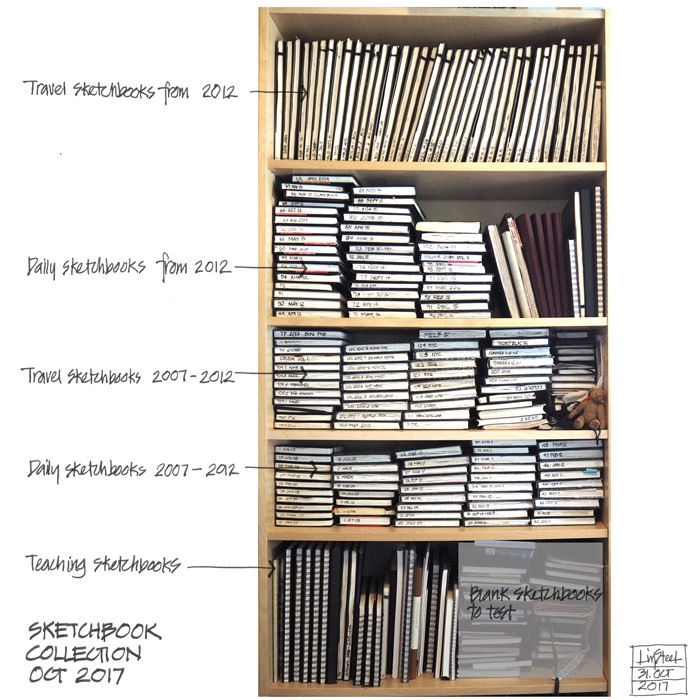 Those of you who follow my Instagram stories may have seen that on the weekend I finally got around to sorting my sketchbooks shelves. They have been hopelessly out of order since I moved into my new flat in February, so it feels good to have them finally in order.
I have about 200 sketchbooks – 102 daily sketchbooks, approx 80 travel sketchbooks and approx 20 teaching and/or other project specific books. I started sketching in Jan 2007, so this is nearly 11 years worth of sketching.
I like sharing a photo of my sketchbook collection from time to time as it's the clearest way I can think of to explain how hard I have worked developing my sketching skills over the years. The speed and ease with which I sketch today didn't come overnight but is a result of years of experiments and regular practice. I can tell you that there are a LOT of unsuccessful sketches contained in these shelves.
The other thing that this photo tells me is that I have the most incredible record of my life in the past decade! When I started my first sketchbook I had no idea where it would lead me, so it's amazing to have my journey documented every step of the way.
If you want to know more about my numbering system, please check out this post from Oct 2014. It's interesting to compare how much my sketchbook collection has expanded in the last 3 years.
---
Do you keep your sketchbooks in order?
---