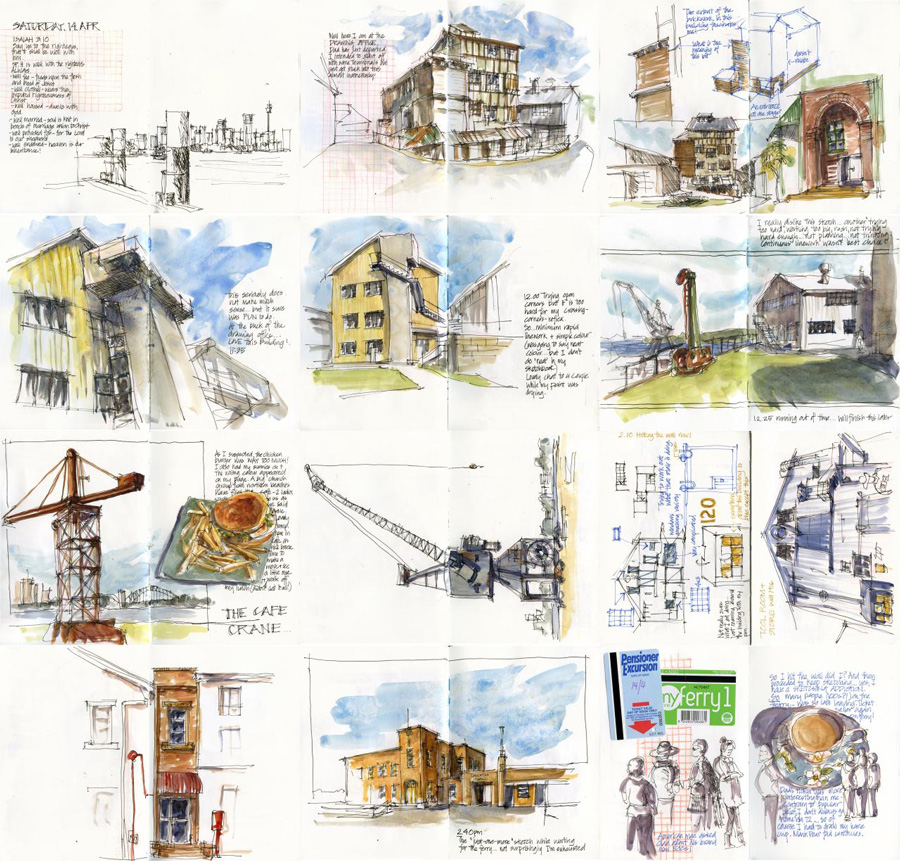 Did way too much sketching today! Here is the day in full (including the sketch I dislike very much!) But apart from that one – I am very happy with what I managed to do today. I had all kinds of plans of what I was going to sketch but someone … when I am on location I just sketch what I feel compelled to sketch!
I took my dad to Cockatoo Island today (his first visit) He loves taking photos so had a great time. (Aside: I would love to go there with my camera and no sketchbook one day…somehow I don't think that that is possible!)
Anyway, I was free to sketch and sketch and sketch on my own. Here is a collection of photos that he took of me today.
Cockatoo Island is my favourite place in Sydney – there is SO much there to see, explore and sketch that it is a bit overwhelming. This is the second time there this week!!!
Those that have seen the wonderful sketches of Alissa and Wendy and Annie in the last week might recognise a few of these views
Also, I must mention that next Saturday – 21st April is another International Sketchcrawl day and we are heading back to Cockatoo Island – we would love to have you join us if you can!!!
Warning this is going to be a LONG post!
Waiting for the ferry – ferry travel in Sydney is hard to beat!!!

I spent most of my time around the drawing office today- this was a warmup sketch

This is me sketching that sketch

Details of the Drawing Office

The rear of the drawing office – looking up and distorting the view. Drawing with multiple lines
And photos of me doing that….


Another view of the rear of the drawing office – with minimum lines- open corners if I could. And simple colour…but you can read that in my notes!

Sketching at lunch of course!

Industrial precinct….


This is where we were on Monday

Ok… thats enough. Time to chill for the rest of the evening!