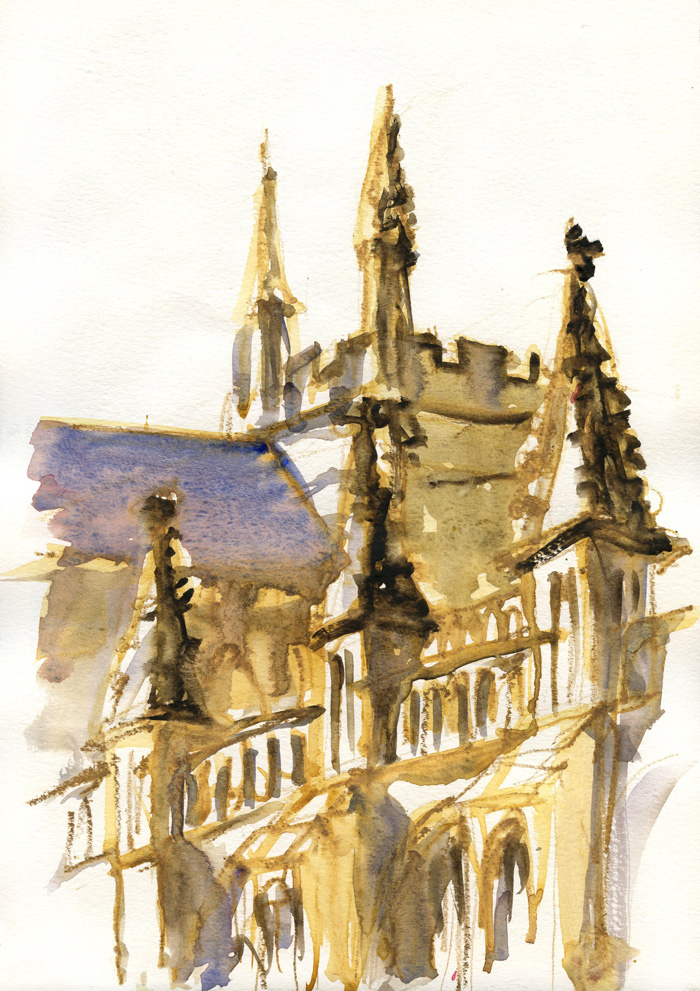 I had a lot of fun today at the Feb meeting of Urban Sketchers Sydney. We meet at Town Hall and most people sketched the views (or buildings) from Sydney square- in between St Andrews Cathedral and Sydney Town Hall.
I have been wanting to experiment a little with colour combination for Sydney sandstone…and today I started that journey. So many of the buildings that I want to sketch are sandstone and I want to get away from relying on old formulas of Raw Sienna, Burnt Umber and French Ultramarine ( well in my case this is Monte Amiata Natural Sienna and Steel's Grey) or a more yellow – purple colour scheme.
This first one is a view of St Andrews Cathedral using natural Sienna and Van Dyke Brown… I was thinking of only using those two colours… but I couldn't resist adding a third…

A blue door on the side of St Andrews … can't really tell from the scan but I added a little yellow to my natural sienna mix….

Finishing the sandstone trio… this is the Justice and Police museum that I sketched on my walk back to the car (after being in the Rocks for a few hours…and please take note, without visiting the Tea Cosy tearoom!)…using a bit of a lot of colours in this one.

And just because I am aware that I rarely sketch modern buildings… I felt an urge to sketch a brutalist beauty – St Andrews House. And well, it was the perfect opportunity for me to go wild and mix up paint and drawing with my sailor pen.
BTW: I am really loving the De Atramentis Archive ink that I got last week from Larry Post… it is flowing SO much better than noodlers.
BTW2: I am really really loving using an A4 watercolour Moleskine now whenever I go out for a sketching day. It is a big change to have 2 sketchbooks going… but I just love the space and the sense of freedom I have working in this size sketchbook
BTW3: doing A4 vertical sketches today leads to lovely big images on my blog, doesn't it!