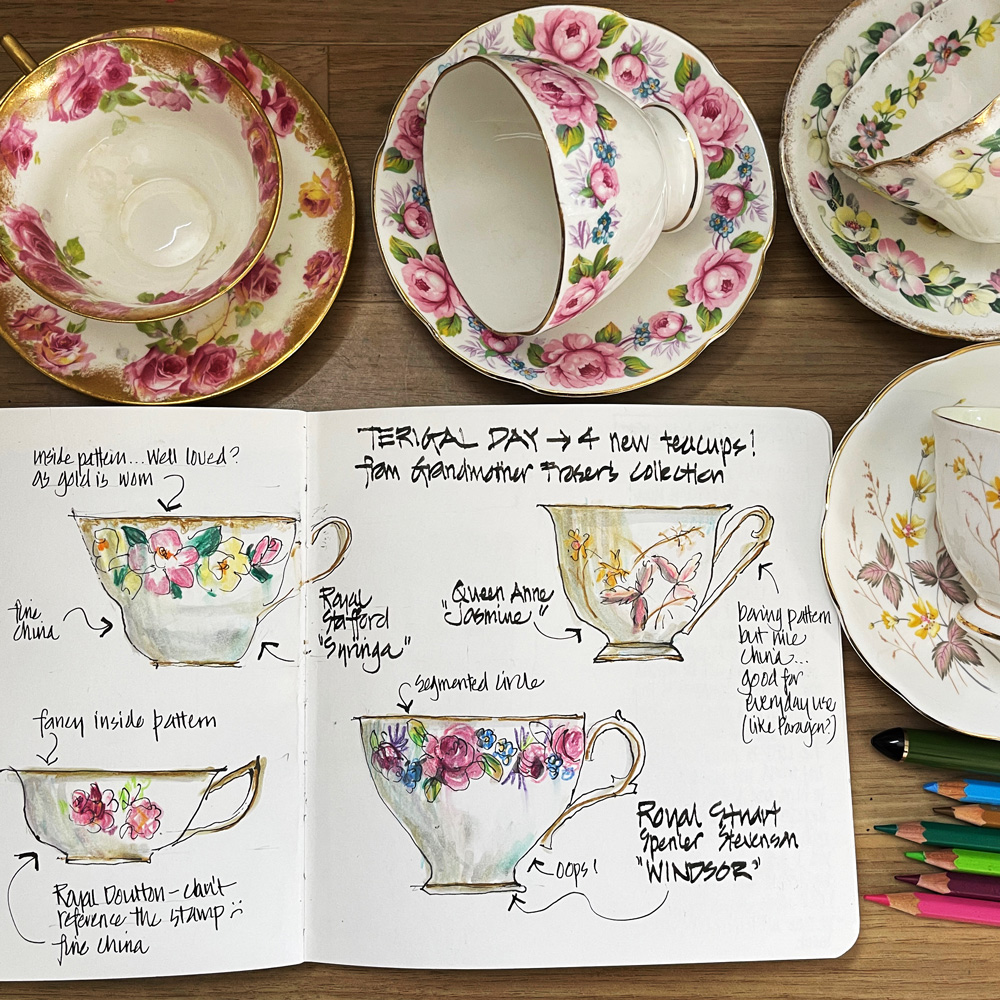 Last week I acquired some new vintage teacups from a friend. She recently discovered a number of boxes full of her grandmother's china (apparently she liked collecting individual teacups) and after the family members took what they wanted there were 9 teacups left.
I ended up taking four of them!
I know, I know, I don't need anymore but she wanted me to take them! 🙂
As I'm not using watercolour in this current sketchbook I did four quick side views of the cups in watercolour pencils (using the Colour4Life set) to document my acquisition on the day! But I will look forward to doing full watercolour sketches in the coming weeks.
After putting together my Teacups course earlier in the year I have a much clearer idea of what type of cup patterns are my favourite to sketch and so three of these cups were chosen for that reason.
What makes a good pattern?
A good pattern IMO is one that is repeated around the curved shape of the cup and saucer. I love seeing how the motif is modified from the cup to the saucer to the plate. (BTW most of these cups have a matching plate as well). This is the most important characteristic of the pattern but also…
Complex coloured patterns on white are easy to sketch!
Floral designs are fun to do loosely in watercolour and although I'm not a really pretty pink floral type of person I do enjoy using my pink pigments when sketching teacups!
The pattern is only one consideration in choosing a teacup…
I'm always looking out for different-shaped cups and handles and love anything that is scalloped or fluted.
I'm quite fussy about the quality of china so the fourth cup was chosen because I expected it would be a good everyday one to drink from.
I also like acquiring new brands as well so it's cool to now have a Royal Stafford, a Royal Stuart and a Queen Anne. And it's always good to have another Royal Doulton.
Ah! So much goes into a good teacup! I will enjoy using and sketching these.
Just a reminder: My Teacups course is currently available as a Self-Paced course. Find out more here!