A month or so ago I received a beautiful Esterbrook pen as a gift from the lovely people at Goldspot Pens and in a word… I've been loving it!
There are a number of really nice-looking options for this pen. While looking through the Estie options on the Goldspot website I was also interested in the Cobalt, Tortoise and Honeycomb…. but this version – Sea Glass with Palladium trim was definitely the one for me.
I had not heard of Esterbrook pens before but it seems that it was a popular American brand until the 1970s and has recently been relaunched. One of the unique features of this pen is an additional MV adapter for vintage nibs. I don't have that adaptor (or any vintage nibs) but it seems as if this is a cool option (refer to this review on The Well Appointed Desk for more details)
I have the regular size pen (as opposed to the Oversize version) with a stainless steel Fine nib.
The pen has an acrylic resin body in a classic cigar shape – both the material and the shape feel great to hold in my hand. It has a spring-loaded 'cushion cap' that prevents the ink in the nib from drying out.
It's a very simple and elegant design and I just love the colours/pattern so much. Here is the description of the Sea Glass design from the Esterbrook website:
"The sea once it casts its spell, holds one in its net of wonder forever." – Jacques Cousteau
Timeless takes time.
And so it is with the coveted coastal treasures that wash ashore during low tides all over the world, known as sea glass. Shaped over many sunrises and sunsets, these bits of colored glass drift for as many as two hundred years, weathering storms in the salt water, tossing and turning, Mother Nature's own polishing that gives them their characteristically smooth, frosted texture.
Prominent in the Northeastern United States, beaches along the shores of New Jersey and New York can be found teeming with these heirlooms and artifacts of whiskey and spirits, trinkets, medicine bottles, dinnerware, jam jars, old taillights and if fortune finds you, a piece of an antique ink bottle.
First used decoratively at the turn of the last century, beachcombers seek out these little gems giving credence to the statement that one man's trash is another man's treasure. A bounty of colors ranging from amber to green, black to pale pink and clear frost to the rarest turquoise blue, make sea glass a highly collectible commodity.

This pen is wonderful to use – I find the nib flows very well and writes smoothly. It's not a flexible nib but I'm finding it really easy to get some nice variation with it simply by adjusting my pressure and grip.
I often prefer using a standard non-flexible nib as it's easier for me to have a fairly consistent line weight and adjust my grip of the pen and/or lighten my pressure to achieve variation. See this article for more.

Some of you will know that my hand is fairly sensitive and sometimes struggles to use heavy pens comfortably .
The Estie is a little heavier than I typically use but I've found it works well if I hold it loosely near the back of the pen body. And as a result, I'm finding that I prefer using it for drawing than writing. (Note: I rarely post the caps of pens and the Estie is no exception).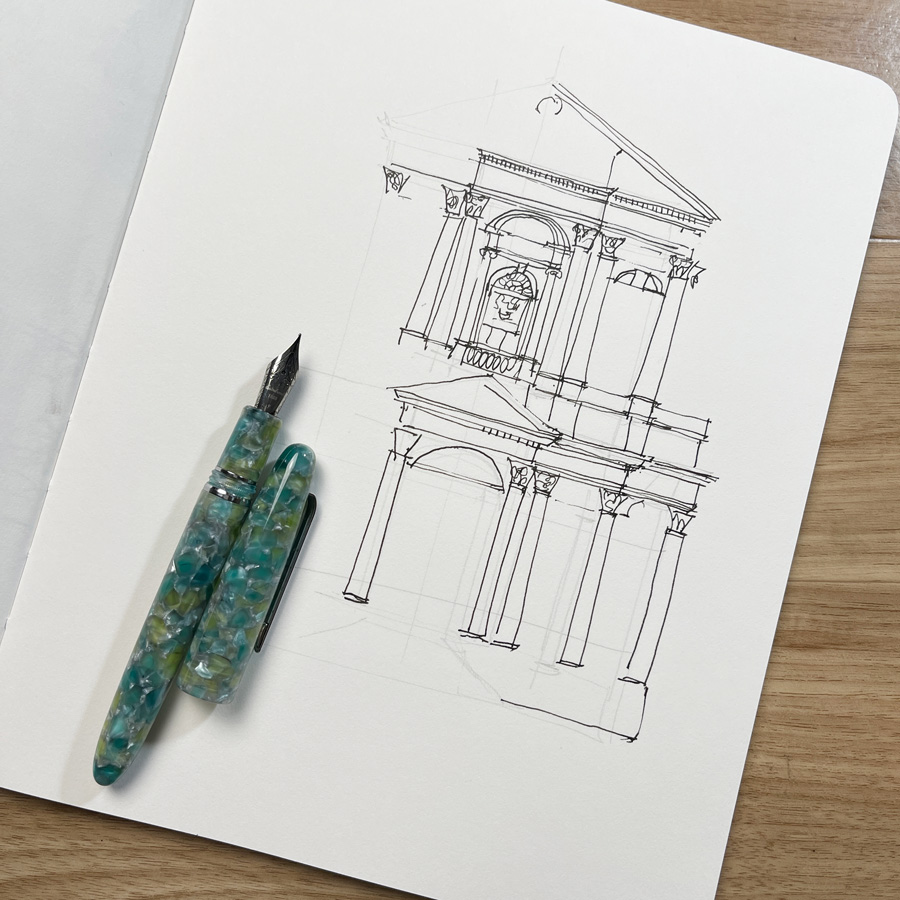 I've been using the Estie a lot lately when I want to do a detailed drawing (especially during the Group Run-through of my Buildings course) as it produces a nice range of line weights and is finer than the Med nib in my Lamy Joy. So whenever I want details and/or fine lines I'm reaching for my Estie.

The Estie has become a part of my everyday fountain pen collection and fills an important role. Here is it alongside my Lamy White and Red Joy, TWSBI Eco and Sailor Fude de Mannen pens. More about fountain pens and my recommendation for sketching here.
As you can see from this photo – my most used pens are much cheaper fountain pens (around $50 mark) . I'm afraid of losing expensive pens when I'm out sketching on location. However, if you are happy to invest in a little more for a fancy fountain pen, the Esterbrook Estie is definitely worth checking out.
Thank you Goldspot Pens for sending me this pen to test – I love it so much!
(Disclaimer: This pen was a gift from Goldspot pens but I have not received any payment to write this article and all opinions are my own. Although I occasionally get some samples/ free materials to test, I predominately still purchase all my own art supplies and spend way too much on new stuff – just like everyone else!))