As promised, I will confirm that the mystery colour from the last few posts was Daniel Smith Cascade Green.
I have had the tube since Saturday, but only today put it into my palette – just for a bit of fun. Before I get into the chat about Cascade Green, I just want to record the 2 changes in my palette this month.
In my 16 colour palette I have had Green Apatite Genuine(GAG) in my 'green spot'. I don't use a lot as I normally mix my greens, but it is a crazy colour and a good Australian green. When I started my food diet, I changed GAG for sap green as it would match freshly steamed green veggies!
I took Sap Green to Tasmania and used a lot of it. Very versatile colour and it MIGHT take a semi-permanent spot in place of GAG… put the green spot in my palette is one that I do change around a bit. Anyway, here are the three greens in a row!

Cascade green is a crazy colour and one that I bought purely as a celebration for finishing my first online class – Foundations.
It is not necessarily a colour that will become a part of my standard palette but it is a lot of fun. With the right amount of water the pigments separate and create a lovely blue. Wow!
But I will say that I am not overly excited about base green colour of Cascade Green – it is a bit like a pthalo green but not as strong – it does contain pthalo blue so that says it all!

Just re-posting this sketch of my green cup using this colour. I didn't get much of the blue separation happening.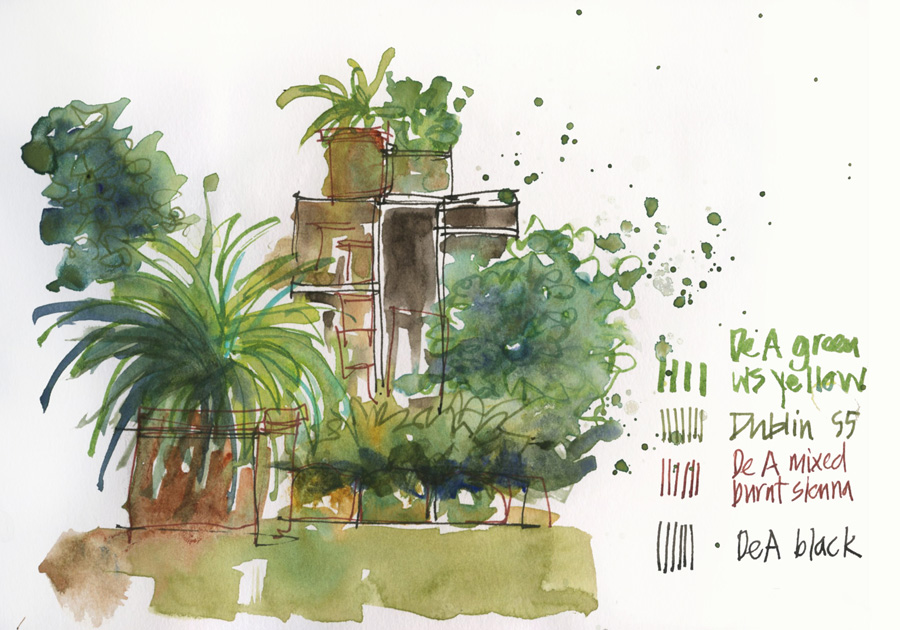 And today I did this sketch – more to test the paint that a serious attempt to draw the back corner of the garden. Once again although I was working very wet, not much blue separation occurred.
Please note: I added some cobalt turquoise in there and other colours as well – I was trying to use Cascade Green in combination with my standard colours and working in my usual way. And of course, the paper will have a big effect and this was just the 140gsm smooth paper of the Goldline sketchbook.

So I thought I would do some trees on the Moleskine paper and you can see that the blue only really appeared on the left tree when I dropped the paint into water on the page.

Here are some quick messy mixes (just done on Canson Montval paper) mixing with Hansa Yellow Medium, Cerulean Blue (chromium), then with a little Quin Rose, then with Quin Gold and finally with Transparent Red Oxide. Lots of fun with these!

And last night I decided to see if I could get a similar result from mixing the two separate colours: PrB7 Raw Sienna and PB15 Pthalo Blue. I got more variations in the mixes because of the raw sienna and blue not being mixed fully but not the same blue separation.

And then I did a few more mixes…. exploring options. I guess that you now have an idea of the kind of mixing that I think about, how I want to understand how the pigments react with each other, and how I just keep playing with my paints all the time!!!! BTW I did a previous post about my messy mixing.

And finally from last week… when I decided that cascade green would be my treat purchase, I wanted to have a play before having bought it.
I made the mistake of using a burnt sienna version of PrB7 rather than a light version Raw Sienna-ish! But I was liking the mixes anyway and I thought I would try a bit of cling film to see what all the fuss is (numerous painters seem to be addicted to this technique.)

And then (truly this is the last image for this post!) I did a little play which turned into a 'winter scene'. This is pure fantasy – I have never experienced anything remotely like this. I often do abstract colour sketches for warmup and experimentation but rarely bother to share them with you.
Ok… that is enough for now. So, in summary, Cascade Green is fun, but I haven't yet got it to do what I want when I am doing my normal sketching.
---