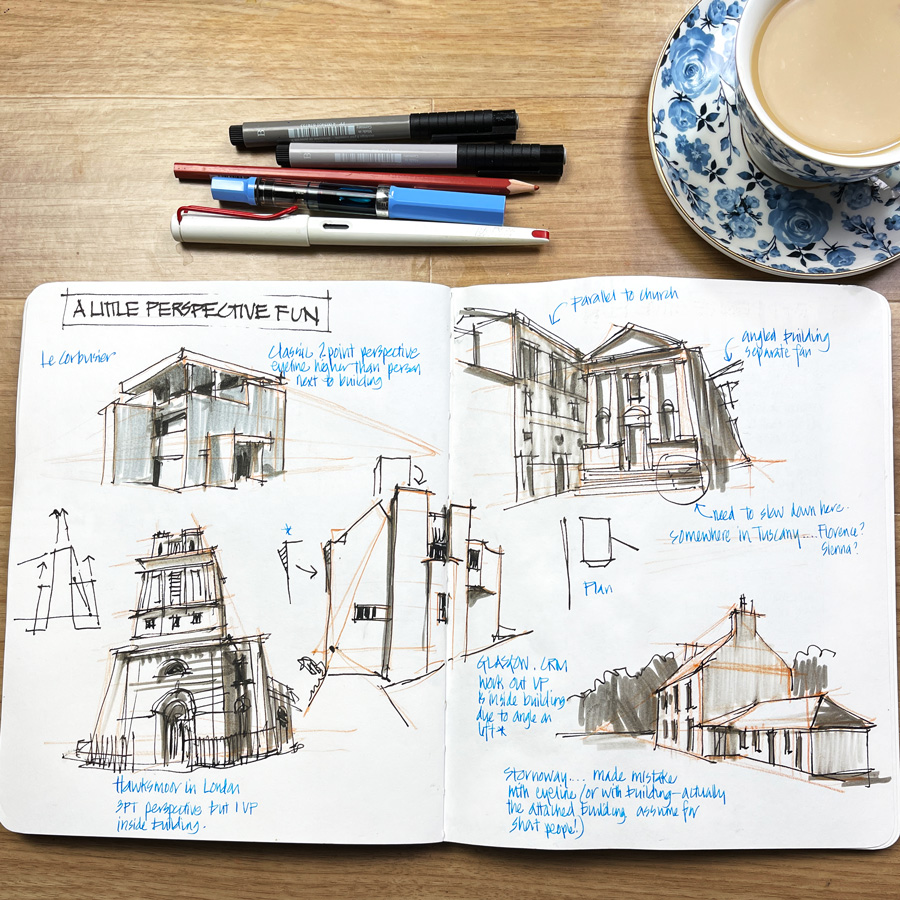 I really love teaching perspective and finding new ways to explain the concepts to help people better see and feel it.
We recently completed the perspective lesson of my SketchingNow Buildings course (if you haven't realised already, this Group Run-through is a huge part of my life at the moment) and I did this page to explore a few different things to look out for.
We had such a jam-packed livestream last week inside the classroom (additional theory to share and lots of work to review) that I didn't get a chance to talk through this page. So I thought I would share it here and hope that you can understand my notes!
Another big part of any SketchingNow Group Run-through is re-doing the exercises I set inside the course. And it's been really handy that I've been able to use my daily visits to Lane Cove National Park to do this for Buildings.

This is a quick perspective sketch (under 15 minutes) that I did of the old Schwartz homestead. I saw and felt the perspective for a few main lines but then sketched in my usual loose style.
I was sitting on the sloping ground right on the edge of a driveway that I thought would be quiet. But in the first two minutes, 4 NPWS cars/trucks drove right past me. And once I finished I realized there was a water dragon sunbaking on a rock nearby. Ah! Don't you just love urban sketching???

It's not a great photo, but I hope you can see the water dragon. I typically run into at least 5 of these lizards every visit to Lane Cove National Park. They are normally in the middle of the track and don't move away until I get up close. I do like to use my daily walks as thinking time, but at Lane Cove I can't do that. I have to be focused on the track ahead at all times.
We are now in the second half Buildings Group Run-through and there are no words to describe how much I'm enjoying it. A super supportive group and we have so much fun during the weekly livestreams. Still 4 livestreams to go – and the doors are still open for anyone to sign up.

A huge thanks to everyone who is active in this Group Run-through! I LOVE going through these concepts with you!??