I'm super excited today to start a new Foundations Friday series and coincide with a Group Run-through of the Foundations course. (And yes, I know it's not Friday today, but due to Easter, I'm publishing this a day early!)

The first lesson (Knowing and loving our materials) is all about putting the time in to really explore the materials we use and so I thought it was time to revisit my watercolour pencils. The first thing I did was to do a colour chart and I have filmed this and shared it into the Foundations classroom.

It was really good to be reminded of the way I mix these pencils and why I have this selection of colours in my kit. For those of you who have signed up… find out more about my rationale for this 'selective colour chart' by checking out the Bonus Material section for Lesson 1 of Foundations.

But doing a colour chart was only the start… I was really interested in re-visiting the way I use them.
Disclaimer: Before I go any further, I must stress that this article is all about my own personal preferences at the moment. There are many different ways of using watercolour pencils and I am simply exploring the way that feels best for me right now. It might change over time but I hope that sharing my thoughts might help you form your own opinions about the materials that you use or are thinking of including in your kit.
Watercolour pencils have been a part of my kit for many years and in particular I used them for quick sketches when I didn't have the time or the inclination to get my paints out. But in recent times I haven't been using them much. Why?
I think this is because when I do a quick sketch, I'm either just doing line drawings (with no colour) or I'm making the extra effort to get my paints out and then doing a simple paint only (direct watercolour) sketch. I'm also very dependent on being able to switch from edges to shapes and do this often with my dagger brush. So drawing and shading with a watercolour pencil doesn't seem to feel right to me at the moment.
So I did two tests this week to explore these ideas further.
---

Watercolour pencils for a morning coffee sketch
In this sketch I started drawing with my pencils and then I put paint over the top. I much prefer to paint over the top (rather than just activating the pencils with water) as I can maintain the intensity of colour. I find that it is easy for watercolour pencils to go flat if you add too much water (you can see this in the colour chart pages above). Adding paint over the top of the pencil work also means that I can adjust the hue of certain colours if needed.
I really enjoyed doing this sketch and it reminded me of how fantastic watercolour pencils are for creating quick texture.
---

Watercolour pencils for a Palladian villa sketch
I am smiling to myself at the moment because I just realised that in the past I would use a teacup and a Baroque building as my subject for test sketches, but these days it is coffee and Palladio!
I chose to do a Palladian Villa sketch (Villa Cornaro) as I was thinking about how to approach a subject which does not have a lot of texture. And in essence my technique involved alternating between shape and line but using different coloured lines (pencils). When I came across an element which had texture (in this case, the shutters and the landscaping) I used the pencils to create that, but otherwise I let the paint do the work with the larger shapes. This was only a quick sketch and I would like to do another version but overall I was happy with this technique.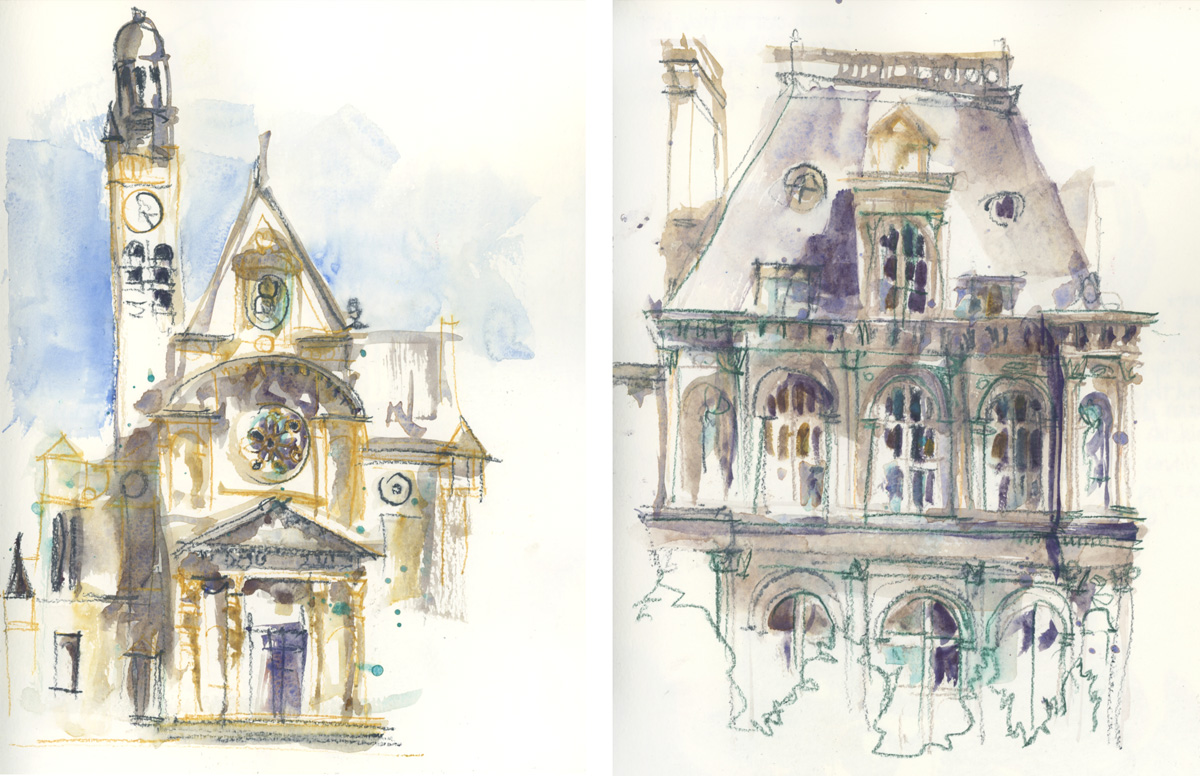 Next I looked through my sketchbooks from last year's big European trip where I was using Caran d'Ache Museum pencils and found these two examples from Paris which use the same approach.
---

Current strategies for using watercolour pencils
I'm happy that this little exercise has clarified my thinking in regard to using watercolour pencils. My two takeaways are:
If the subject has a lot of texture, it works well to draw most of it with the watercolour pencils and then lightly paint over the top.
Otherwise using my normal technique of alternating between line and colour is my preferred technique, using the watercolour pencils mainly for different coloured lines and any textured elements.
This last image is a sketch of my teacosy from a free Foundations Intro Lesson which I released last week. To view this demo, click here and scroll to the bottom of the page.
---
I would love to hear from you…
Do you use watercolour pencils much? And how do you use them?
---
This article is part of a series going through the lessons in my online course SketchingNow Foundations.
Read more Foundations Friday articles from this year's series here
See a full index of Foundations Friday articles since 2016 here
Find out more about the Foundations course here.
---