Part of my Series on Fountain Pen Sketching – click here for the index,
After looking at some basic fountain pens in Part 5 we will now look at some pens that give greater line variation. This is the 'hot topic' when it comes to fountain pen sketching and my goal is to provide an introduction to the main options. This is very much a work in progress – I have learnt a lot putting this together but have still more to explore – much more.
There are three main types of nibs that provide significant variation:
1. Flex nibs
2. Brush tips
3. Calligraphy nibs including stub, parallel and fude.
Of course there are more alternatives than I am able to cover, but I hope this will be a good starting point!
But before I get into each one, I just want to clarify a few terms that I will be using.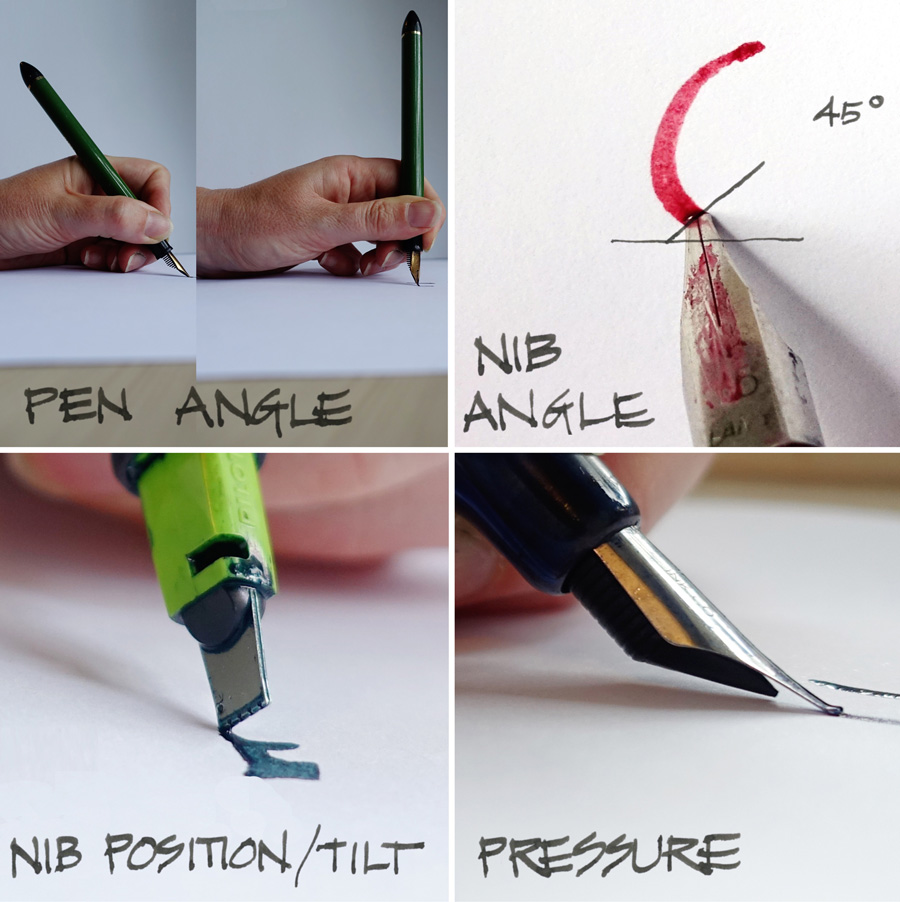 Pen angle: As we have previously discussed, fountain pens are typically best used by holding them at 45 degrees to the page but some nibs create variation by changing the angle of the pen while drawing.

Nib Angle: This is the angle of the nib in relationship to the horizontal. For example a calligraphy italic nib is designed to write with a nib angle of 45 degrees.
Nib Position or Tilt: For want of a better term, I am referring to how the nib hits the page in a non-standard way generally caused by tilting or twisting the pen – for example using a nib on its edge so that not all of the nib 'tip' is evenly on the page.
Pressure: Obviously you all know what this is, but I am not referring to pressing really hard! Some nibs flex to allow more ink onto the page producing a thicker lines and other nibs are less responsive to pressure. Be very conscious of how the nib is responding and make sure you don't bend the tines.
This might seem a little technical but it is these movement variations that create expressive lines!

Here are two summary pages exploring which movements are the most relevant to the pens I will be testing. For me the big issue is working out which type of movement will suit my sketching the best!

A big part of the joy of using fountain pens is learning what they can do and then exploring if you can use this to advantage in the way you sketch. This involves a separate creative journey with each pen – it is not an instant magical transformation of your lines! Enjoy this process of discovery!

Aside: I was watching this video about 'breaking In fountain pens' yesterday. I really like what Brian says about the pen 'breaking you in' rather than the other way around. The important mental attitude to have is a desire to work with the 'sweet spot' of a particular pen rather than being totally dismissive of it after one use!
Just a reminder that there is a Shopping Guide on Goulet Pens for all the pens that they stock that I refer to in these posts. And also a special discounted bundle of the Lamy Joy pen. For comparison purposes I have included the current list price* of each pen but please check the price on Goulet Pens' site. Just a reminder that this is not a sponsored post nor are there any affiliated links. Please feel free to do your own searches for the best deal in your country, but I do recommend that you follow the links to Goulet Pen's site so that you can read customer reviews and watch Brian's videos.
For Australians – I recommend you check out Larrypost who also have a special Joy bundle at the moment.
Flex Nibs
There are a lot of people looking for a fountain pen with a flexible nib that produces a similar result that you can get from a dip pen. This is a very involved topic and one in which I am certainly not an expert, so what I will share is my current thinking – and I hope that readers that are more expert on the topic can add to the discussion in the comment section.
For me using a dip pen is as much about the variation in the ink supply as it is about the flexible nib. In a fountain pen the feed is designed to give an even flow of ink to the nib so this is inherently a different experience from dipping into an ink bottle and creating lines that have a dramatic fall off in ink. In my research it seems that vintage pens have a degree of flex that modern pens can't match: however modern pens are more reliable. So if you want a true flex pen you either need to go down the vintage pen route or investigate customizing a nib. This is all getting into the realm of serious fountain pen stuff – so I will leave that for further exploration. BTW Brian Goulet discusses modern vs vintage flex here.

The whole idea of a flexible nib is to apply pressure so that the tines of the nib separate and more ink is released onto the page. Increasing pressure for a thicker or stronger line is a fairly natural way to draw (eg. with a pencil) however when you're using a fountain pen there are additional considerations. You have to be aware of the angle of the nib and how fast you are drawing the line so that the feed can deliver the ink that is required. If you go too fast and the feed can't supply enough ink you will get a railroad track effect (as per the photo above).

As I have mentioned before, I find it a lot easier to get consistent flex when I write than when I draw, as the rhythmical up and down movement of writing makes sense with varying pressure (heavy down strokes, light upstrokes). Sketching is a lot more complicated with more varied strokes and different situations (working fast or slow, gestural strokes vs fine detail). Another factor to consider is how much ink sits on the paper when drawing thicker lines and what drying time is needed.
So it is not just a case of finding the 'perfect' pen, it is all about having an understanding of how the pen will work with the way you sketch.
Right at the moment I am still exploring how to get the most out of using a flex pen. I am finding the application of pressure while I sketch is affecting my spontaneity of line – it is certainly not flowing naturally. I am also training myself to adjust the pressure mid-line to get the most out of the flex experience.
Now to get onto the pens…
Flex Pens:
1. Noodlers Flex Pens
2. Pilot Falcon (previously Namiki Falcon)
3. Gold Lamy Nib
Brush Pens:
4. Pentel Pocket Brush Pen
5. Noodlers Konrad Brush Pen
6. Platinum Weasel Brush Pen
---
Flex pens
1. Noodlers Flex Pens
Current List Price* ~$16-40
Full Range of Konrad and Ahab pens at Goulet Pens here
Full Range of Nib Creaper at Goulet Pens here
These pens have been around for a little over 5 years and although I got one of the early Nib Creapers (the little blue pen in the middle) and then subsequently bought two Ahabs, I haven't really used them much. The Nib Creaper went through the ink too quickly and I had trouble with both Ahabs – I just couldn't get them flowing properly (or even starting!) However when Goulet Pens sent me a Konrad to test (the clear demonstrator) I was determined to have another go. The Konrad is a much better sized pen for me so I filled it with ink and eagerly started to use it. Once again serious flow issues… until I did some research and discovered that the number one rule for using a Noodlers pen is to give it a good flush before you start to use it. So I cleaned all my Noodlers pens with the Goulet Pen Flush, and guess what? – they all work really well now!
The big thing to realise about the Noodlers Pens is that they are incredibly affordable flex pens, but they do sometimes need a bit of adjusting. Don't buy one if you are expecting the most reliable pen on the market – but the adjusting isn't such a big scary procedure and there are great Goulet videos to walk you through it! The other thing about the Noodlers pen is the very strong smell caused by the resin used for the pen body – I am not a fan of it but it doesn't put me off using it.

Now that I have got my Noodler's pens up and running I am learning how best to use them. In essence the flex is good and I am able to sketch quite comfortably with them. The major challenge for me is to work out the best speed and angle with which to use these pens.

For some reason I am getting lots of railroad tracks when I do my pen tests, but not so much when I sketch. I know that I have to slow my pace when I want a thicker line… but sometimes it is hard for me to slow down – ha!
2. Pilot Falcon (previously Namiki Falcon)
Current List Price* ~$145
Full Range at Goulet Pens here
Now the pen that everyone wants to talk about is the Pilot Falcon. At around $140USD it is an expensive pen and I have been resisting buying one for the last 12 months. I have the advantage of being able to test Jane Blundell's pens from time to time, as a way of assessing whether it is worth the expense – ie. whether the flex I can get from this pen is really worth the cost and whether it suits my sketching style. In the end I weakened!

I have only recently realised that the Falcon pen does not have a 'true flex nib', rather its gold nib is classified as a 'soft nib' – it does flex but not in the traditional sense. So in a similar way to my Lamy Gold nib (more of that in a moment) because it is soft you get line variation, but the tines are not separating like they do on the Noodlers nibs. I now have my eye on a Pilot FA nib (which is different from the Falcon pen) … but that is another story entirely and getting too technical. The main point being that I have to be careful not to flex the Falcon pen too much since it isn't designed for that!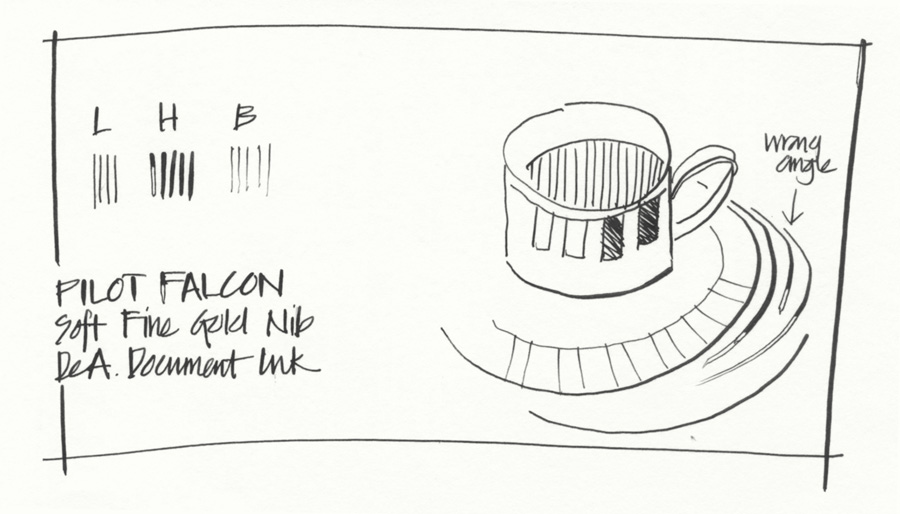 To get back to the Falcon – it is a beautiful pen producing a great consistent flow and some nice line variation – but it is not a huge variation and it is not quite as much as I can get with the Noodlers Ahab. On the other hand it is a softer nib and a much nicer pen to hold and use! I have been putting some good pressure on it, but am very careful not to overdo it. I feel much more relaxed 'going for it' with the Noodlers nibs!

Another great feature of the pen is the flat top to the nib – you can use the back of the nib for a crazy broad stroke.
I will be coming back to the Falcon later… so keep reading!
Other Links
Review by Parkablogs – he has a modified version of this pen with more flex
---
3. Gold Lamy Nib
As most of you know, I have a gold nib in my grubby Lamy Joy pen. I bought it years ago when I began sketching and wanted the best tools to start with! This nib only has gold down the tines but this does help make the nib more springy. Correction: this gold nib has plating over the top as a design feature. It is more of a soft nib than a flex nib. The main thing about this nib is that it has had a lot of use – 80 sketchbooks worth of drawing at a guess – so the flow and wetness is as much a result of usage as is the gold.
I know that the gold nib is difficult to get separately in the US but here in Australia you can easily buy a gold nib to put in any Lamy pen.

Here is a quick test of my gold Lamy nib. I can get good variation in line thickness by applying different pressure but it is hard to vary it while I am drawing a line. So I don't get as expressive a line as I can do with the Noodlers or Falcon pens which are much more responsive.
Do I recommended it?
Well.. it is perfect for me as I am so much in love with the Lamy Joy pen body so it gives me the best nib option for that pen. But for the price and the variation it offers I don't really think it makes a lot of sense for others – I think the Falcon is a better option.
So what's the bottom line – is the Falcon worth it?
I know a lot of you are waiting to hear what I think of the Falcon but it is still too early for me to make a definitive statement. Stay with me until I have done my review of the Fude calligraphy nibs because I have some interesting comparisons to share.
I do think that the Noodlers Konrad is a good pen to buy if you want to explore sketching with a flex nib first before making the big commitment of a more expensive pen.
And oh – here is another Goulet video to check out about the difference in flex between the two pens!
---
Brush Pens
I will be much briefer with my comments on these pens as this is a little tangential to the general focus of this series. Brush pens create quite a different look – I like them for occasional use but rarely incorporate them into ink and wash work.
In essence you can get the most variation by using a pen with a brush tip, but these also require the most amount of control. I am still very much a beginner when it comes to using these pens to their full potential – which is using them with careful control calligraphic strokes. I love having a few tools that I can grow into – ones that I can currently use to effect but also know that there is a much more sophisticated usage of them that I can explore down the track.
Aside: I did a wonderful workshop with Melanie Riem at the Urban Sketchers Symposium on this topic.
4. Pentel Pocket Brush Pen
My own usage of these pens is for loose gestural strokes and I have been using the Pentel Pocket Brush Pen (with cartridges) for years. It is a great pen but I wanted to explore some options for using fountain pen ink.
So I now have a Noodlers Konrad brush pen and a Platinum Weasel Hair brush pen.
5. Noodlers Konrad Brush Pen
Current List Price* ~$20
Full Range at Goulet Pens here
Once again I had a little initial trouble with the flow of the Noodlers till I cleaned it and now it is working better. I find the flow of ink is less than the Pentel but if I go slow the flow is adequate. Need to use it further to check its performance over time, but it is certainly not as good as the other two alternatives. I have already put a permanent mixed grey ink into it which is what I have been wanting to use for a long time.

6. Platinum Weasel Brush Pen
Current List Price* ~$65
Full Range at Goulet Pens here
The Platinum Pen is much superior and has a great flow – this is exactly what I was looking for. It is a much more expensive pen though, but I very happy with this purchase. As it is a natural hair brush tip I am going to do some more research into putting pigmented ink into it – so for the time being I am sticking with fountain pen ink inside it. I will be exploring all kinds of ink options in the Konrad Brush Pen though!
In summary: the Pentel Pocket Brush Pen is a very good option and if you want to get into brush pens this is the pen I would recommend!
And… as the first person to comment has reminded me you can also use waterbrushes filled with ink!
Other Links:
Fantastic comparison review on Parkablogs including links to further reviews
Jane Blundell on brush pens – including a Kuretake version
Ok… the Fude pens are coming up soon in Part 7!
---
Once you have a fountain pen you will have to start drawing with it!
If you would like to learn the fundamentals and start urban sketching please check out my Foundations online course.
---
Subscribe to my mailing list for my monthly newsletters for first news of new courses and face to face workshops in Australia (and overseas!)
---