Part 2 of my series on Fountain Pen Sketching – for the Introduction click here.
Note: In this post I am primarily discussing fountain pen usage as it relates to ink and wash sketching with the goal to use a permanent line that will not be affected by the watercolour. You can do a lot with watersoluble ink but in general I use permanent ink lines.
This is also a very personal summary of what I think are the most important aspects of fountain pens.
I want to look at three questions – and as always would love to hear your thoughts and comments at the end.
1. Why use fountain pens for sketching?
2. What are the negatives of using fountain pens for sketching?
3. What makes a good fountain pen for sketching?
---
1. Why use fountain pens for sketching?
A permanent pigmented ink fine liner pen does a great job at providing a uniform permanent line which can then be painted over with watercolour, but I much prefer a fountain pen!
Here are a few reasons why:
I love the flow of wet ink on my page – ah!
I have no words to describe how much I love it. Fineliners are much drier which naturally means their lines will dry and become permanent quickly. As a result there is less likelihood of smudging as you draw or smearing with the application of paint. However, even though I am a fast sketcher and never wait before jumping in with my paint, I rarely have any problems as the ink I use is fast drying.
But regardless of any potential 'risks' there is something really special about the flow of ink on the page.
The nib does not deteriorate and become harder to use over time.
In fact fountain pens normally function better with more use. When I am using a felt tip pen it only takes me a few days before I've worn the tip and the quality of line work decreases. My 'White Joy' body might be grubby, but the nib just gets better and better.

I like to hold a pen at a 45° angle and fountain pens are much better for this.
Fine liners are best used in a more vertical position.

A flatter angle encourages a looser grip and movement coming from the shoulder rather than the wrist. Both of these are good for spontaneous drawing.

I can get a variation in line using the one pen.
As we will see in Part 3: Using a fountain pen, even a non-flexible nib will produce different thickness in line.

I can choose whatever coloured ink I like.
An increased range of coloured permanent pigmented ink for fountain pens has been an exciting new development in the past 12 months. Now I can go crazy matching inks to my pens! More about ink in Part 3.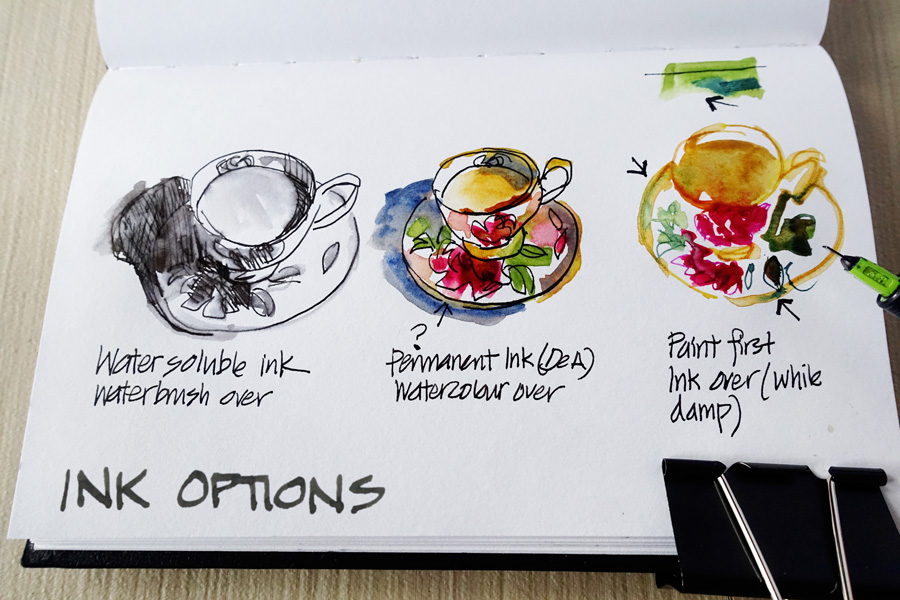 Not only the colour of the ink but the type of ink gives me lots of options.
I can put water-soluble ink in my pen and then use that to advantage when adding water – line and tone in one!
The more standard usage is for ink and wash using a pigmented ink that dries quickly and permanently so I can freely paint over without any movement of the ink.
Or I can do something crazy and put ink over the top of wet paint!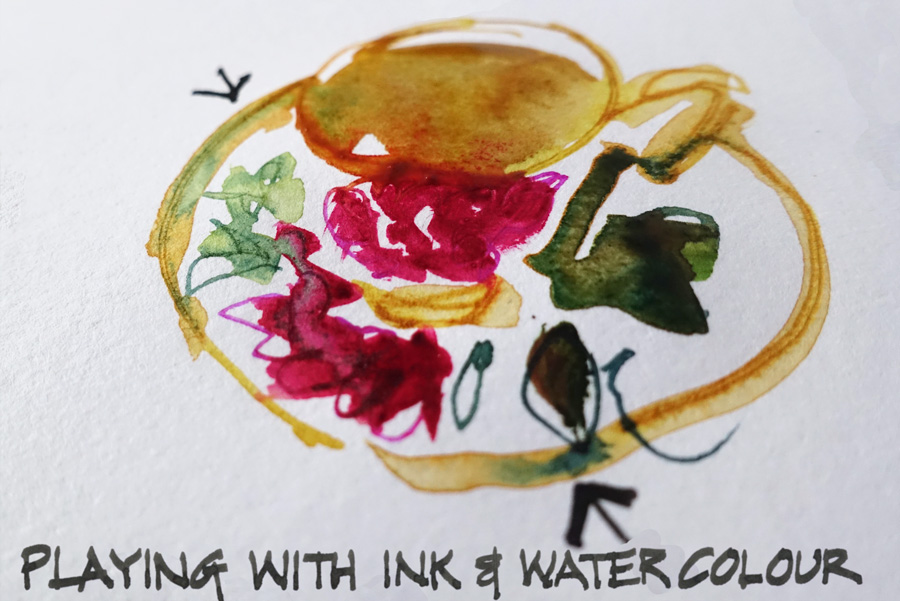 This might look a little out of control (it is a small doodle after all) but this merging of ink pigments with watercolour is something that I do a lot in my sketches.

It has been a prominent feature of my teacup (and teacosy) sketches in the past 12 months and well… any of my sketches at home or abroad.
I love the vibration and liveliness caused by the bead of ink at the end of each stroke – BTW the official term for this is 'shading'. There are some inks that will give you a more solid black line if that is what you are after, but I like shading, especially in my mixed De Atramentis ink – perfect for the gold edge of teacups (sorry I couldn't resist!)

Most fine liners come in very similar plastic bodies but fountain pens are designer objects.
There is so much variety available so you can choose a pen which you really like the look of and fits your hand well – thick or thin, light or heavy. it's very exciting when you find a pen that just feels really good in your hand and whose design you really love.

I also like the reusable nature of the fountain pens.
I certainly prefer not to be buying and disposing of plastic pens all the time! I do wonder whether they work out cheaper in the long run but have never done any costings – let me know if you have worked this out. UPDATE: Should have checked the Goulet Q&A first… check this video out!
Of course obsessively buying new fountain pens is an expensive hobby and I am certainly guilty of this, but honestly, I could survive with only two fountain pens. More about pen selections coming in future parts of this series!

I love the flow of wet ink on my page
Oh, I have said that already! But hey, that is really the number one thing for me so it is worth repeating it. The flow of the ink and my linework are inseparable!
So… have I convinced you yet?
---
2. What are negatives of using fountain pens for sketching?
If the wet ink is what I love about fountain pens, it is also the thing that makes it a hassle. "And oh! there is the need for care and maintanence!" I hear you cry.
Seriously it is not such a big deal! I think any inconvenience to do with refilling my fountain pen and cleaning it is insignificant compared to the benefits of using it. I am just resigned to the fact that I always have ink on my hands but I have been developing a few strategies that are making it a lot easier – more in Part 3. Note: the ink on my hands is only when I fill my pen (I am looking at refining a careful refilling process!) and NOT from my daily use of it.
Another barrier to people trying a fountain pen is that it seems totally overwhelming. There are so many choices and fountain pen nutters (like me) love getting all technical. I am writing these posts for a mixed audience, some of you want a detailed answer to a specific question from your own experience. Others just want to be told what to buy in order to start! For the second group of people I will have a specific recommendation when we look at basic pens (Part 5) and if all my details get too much for you, just look at the pretty pictures and come back later to read the text after you have had a go with a fountain pen for yourself!
---
3. What makes a good fountain pen for sketching?
Ultimately any fountain pen with a good flow can be used for sketching – however these are a few things that I think make for a good fountain pen sketching:

Writing involves a rhythmical movement of up-and-down with a few loops. I find it easy to vary my pressure when I write, creating a heavier down-stroke and a lighter upstroke with associated loop. (Aside: A separate blog post about architects' handwriting is on my to-do list – I promise!)
But when I sketch, my pen movements are a lot more varied and I am constantly changing my grip. I hold the pen a lot more loosely and the position on the barrel of the pen changes as I work. I therefore need a pen that is not only comfortable in the grip section but in the whole body of the pen.

These are a few stills from videos filmed for my SketchingNow online courses. It is surprising for me to watch how frequently I change my grip – I am really not conscious of it while I am sketching, but in the process of preparing these posts I have worked out a few reason why and… guess what? There will be more in Part 3. Hmm, Part 3 is obviously going to be a good one!
These days most of us don't do a lot of handwriting so are not used to holding a pen for a long period of time. A typical time for an ink drawing would be between 30-60 minutes which is not insignificant. (Note: I am guessing here, as I rarely go longer than 20 minutes with a pen!) It is therefore critical that the pen feels comfortable in a hand and is not too heavy. I have a very sensitive hand so the weight of the pen and the thickness of the body is a big issue for me. However you might have bigger hands and/or prefer and feel more comfortable with a heavier pen with a thicker body.

As sketching pens are taken out on the streets constantly and do not remain safe and sound at the desk, it is important to be using a pen that is not too expensive in case it falls out or you leave behind. It is up to you to decide what 'too expensive' means for you. They can also get a bit of rough treatment in our sketching kits. I therefore am generally looking at cheaper but well made models.
Of course, I am not following my own advice. I currently use an expensive pen (well a plastic pen with an expensive nib) and am very nervous about losing it – especially as I'd lost two black Lamy Joy pens a few years ago within a few months of each other. Having a white pen makes it easy to see if I've left it on the ground or in a dark cafe. And I am now a lot more diligent in looking around for stray art tools before I leave a location.
Anyway, I had better get cracking on Part 3 as I have made a lot of promises about it!
Have you got any other thoughts on what makes a good fountain pen for sketching? Please include them in the comments below.
Click here for Part 3: Using a fountain pen
---

Once you have a fountain pen you have to start drawing with it! 🙂
If you would like to learn the fundamentals and the start urban sketching please check out my Foundations online course. There are some free intro lessons to help you start and find out more about the course.
FInd out more about SketchingNow Foundations
---