Day 1 completed – I hit my target of 20 people per day and I'm already feeling the benefits of this challenge. Due to the focus of sketching this week, I will make my updates brief, so here goes.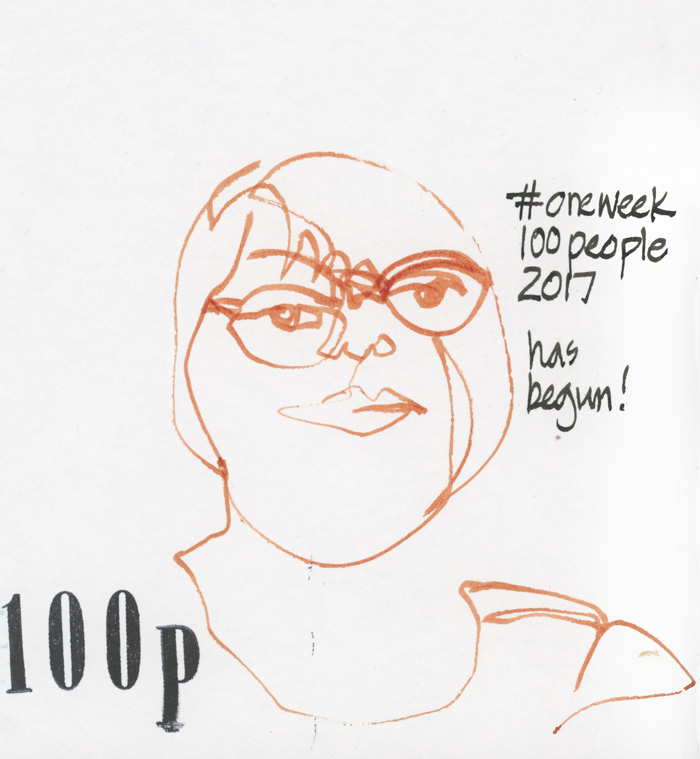 I thought I would set the tone for the week by doing a blind contour selfie – using a continuous line (not taking my pen off the page) and not looking at the page. The key to this week is to go for it, mix it up and have fun! I am definitely not expecting 100 masterpieces as I am still very much a learner when it comes to drawing people. But I'm going to have lots of fun – as I did doing this one!
---
Day 1 Tip:
If you are a beginner and have a tendency to stress when drawing people (ie. lots of tentative 'hairy' lines) you might like to try drawing with a continuous line and concentrating on your eye-hand coordination. You will have to 'embrace the wonkiness' but you'll be surprised at how expressive your sketches are – and your lines will be good.
---

I then went to a local cafe.

Here are some thoughts about the experience
My 'Beloved Lamy Joy' and 'the spare' were out of ink so I had to scramble to find a pen to use – this was a bit of a flustered way to start!
The cafe was surprisingly quiet so I had to stop sketching and start working as an infill and then switch back to sketching as soon as people appeared again. This meant a distracted work session and a disjointed sketching session – I normally would have given up sketching as soon as it became quiet. So this challenge made me stick at it.
I enjoyed adding notes to each sketch, and this increased the fun and educational component of the challenge.
I did feel the added pressure of sketching in my big book and I felt very tentative doing it first thing Monday morning – before my coffee! Maybe I should paint my coffee first and then start the people sketching.
The pressure to get to work was very strong, so I think for the rest of the week I will go to the cafe later in the morning, after I have achieved a big task for the day. Hopefully this will mean that I can enjoy the sketching a bit more.

At night I decided to do a few research sketches with the intention of adding colour tomorrow or the day after. I am counting these separately as I want the 100 to be all done on location.
I am really loving seeing everyone's sketches! Don't forget it is not a race, and make sure that you take it at a pace that feels right. Keep it up!
---
So how did you go? Please share you insights – the ups and the downs!