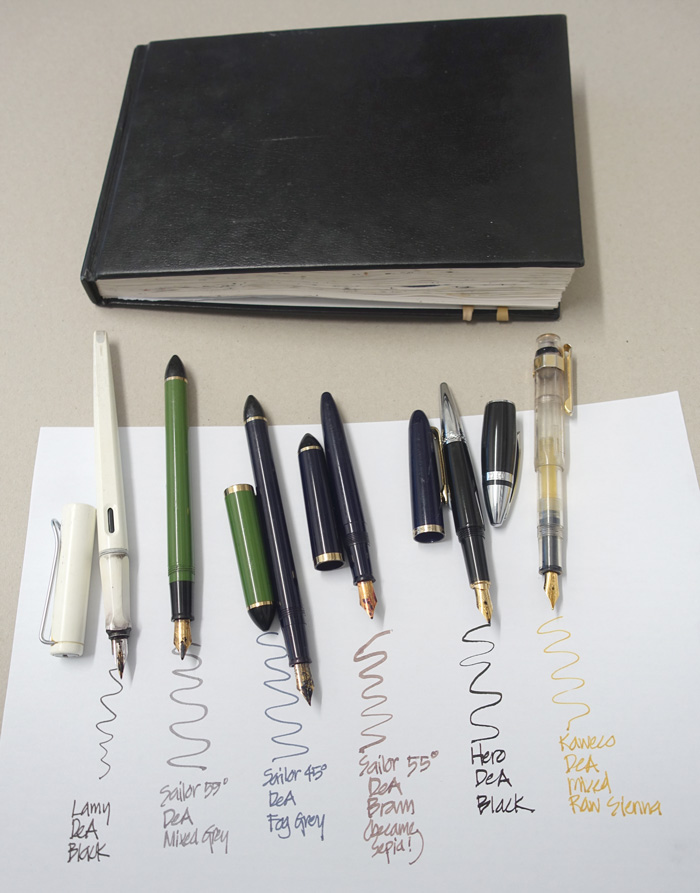 Back home with a sketchbook to scan (the last two days were so productive that the book is almost full!) and yet again, a lot of new ideas and thoughts.
One of the things I am thinking about is how many fountain pens to take away on a trip. I took a big collection to Tasmania in February and didn't use them but this trip I took 6 pens and used all of them regularly – the raw sienna less than the others but it is so small that it doesn't matter!

I also took spare black, mixed grey and brown ink (go to Current Sketching Tools for a link to a blog post on travelling with ink). I wished that I had taken some more fog grey as I really liked the blue grey drawings. I am loving using the fude nib pens but they use up a LOT of ink. I checked the state of my pens every night and in general had to refill every second day. On a number of occasions I longed dark green ink and a cyan … but there is a limit.
The rest of my kit was the standard stuff – see Current Sketching Tools again for details on that.
I made the decision to use an everyday book (Alpha Landscape sketchbook) rather than my preferred trip sketchbook (Moleskine watercolour A4 book). I will discuss my views on this decision later, but in essence, it was the right thing to do for this particular trip.
Anyway, my other 'post trip' thoughts to follow shortly.