I haven't been sketching much over the last two weeks as I have been swamped with a lot of work (getting SketchingNow Buildings ready to re-open). My excuse is that I am feeling overwhelmed with my workload and I just don't have the time!
But as I can do a sketch in 5 minutes, is the 'I don't have time' statement really the case? Isn't it true that we make time for little things even on the busiest day? And my excuse looks even more pathetic when my iphone tells me I have been scrolling Instagram for a total of 30 minutes some days. What!!??
Therefore it must be more of a mindset issue!
What do you think? How much time do you spend on your phone even on the busiest days? If you added them up would you have time for a quick sketch?
---
Anyway, on the weekend I started a new sketchbook and changed the format. I love the 8×10 Stillman and Birn softcover Alpha but I reached for a 9 x6 hardcover Alpha instead. This used to be my go-to daily sketchbook before the softcovers were available.
I chose this book because I intend to use it during a conference I plan to attend next month and wanted to get used to the size and format again. I plan to use it for taking notes and sketching people, food etc. Quick rapid casual type of sketching.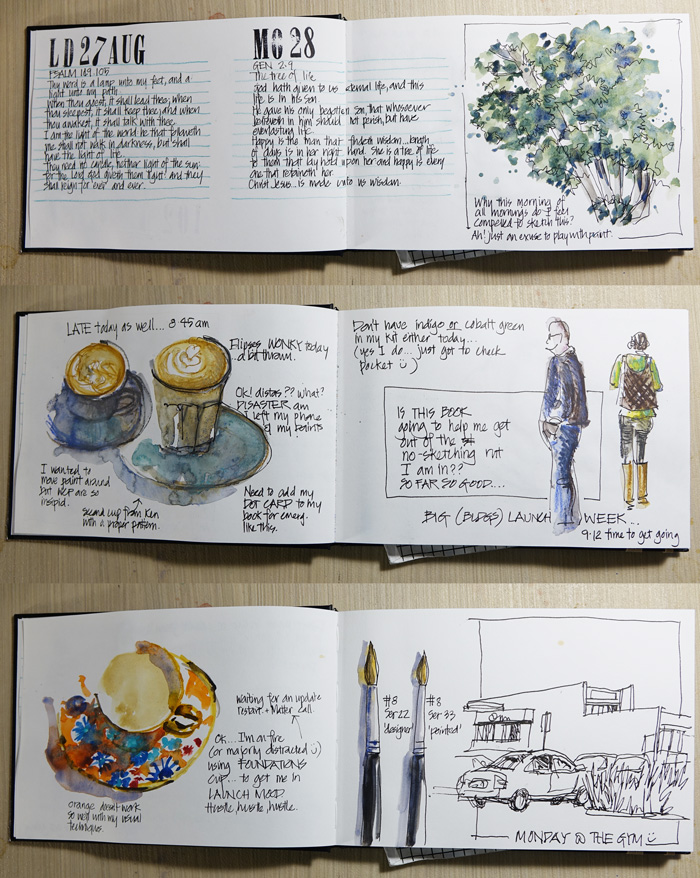 As soon as I began the book I knew it was exactly what I needed to get out of my non-sketching rut and today I filled 6 pages. None of the sketches are that exciting and in fact it was a 'major disaster' that I didn't have my paints this morning – those elipses for the extra latte I was given are a total disgrace! But hey, it happens when you are focusing on other things – different materials, not wanting the coffee to go cold, and how nice it was to be brought out a second cup because the art in the first one didn't work out.
The great news is that I feel bonded to my book in a way I haven't felt for ages. (the sign of this is all the silly notes I am adding)
I think it is the combination of the change in format and the fact that it is a smaller book (ie. its easier to do something quick on a page) that has made the difference.
---
So, when was the last time you changed sketchbooks – size, format or paper. Did it make a difference to your sketching rate?
So, what do you think: will I sketch this evening (this post is being written at 6pm) and will tomorrow be a good day as well?
Oh! so many questions for you today! 😀
---