2022 UPDATE: I now use a simpler board (see here) or a Stablo.
There are a few challenges when it comes to watercolour sketching out on location. A lot of people stress about being out in public and are afraid of what people will think of them. But once you get over that, the biggest issue is having your tools handy and being able to sketch in a variety of positions (seated or standing) with ease.

Two years ago I started using a board to support my sketchbook, paint tin and water container, and it has been a total game changer. I got this idea from Marc Taro Holmes after sketching alongside him for a few weeks in Brazil (August 2014). Everyday while I struggled to balance my gear (and particularly the large A4 moleskine) I watched Marc sketch in style and ease. You can read about Marc's board here.

I knew I needed to set one up for myself but wanted mine to be a little smaller, so I did some experimentation. These photos show my first version which was the same size as my A4 moleskine. It was too small, so I added a hinged section and increased the width slightly – this has made a big difference.

It is made from sig board/corflute/coroplast (please tell me if there's another name for it) and gaffer tape (strong cloth-backed waterproof adhesive tape) for the hinge. Ideally I would prefer the board to be black, but the art store only had white at the time. However, the white makes it easier to see the hinged section, and also gives an idea of much I splash my paint. But, maybe it's time to clean it!

The width of the board has been designed to accommodate my metal palette and one (or two) water containers (secured with blu-tack) and some area for paper towel or my wristband. It also provides just enough support for the spine of my sketchbook which I clip to the board.

The length was based on an A4 moleskine with a little float, and it also amazingly fits the new 8 x 10 Stillman and Birn softcover book.
Dimensions:
Width 240mm (9.5″)
Main board = 287mm long (11.3″)
Hinged piece = 130mm (5.1″)
Total length 385mm (15.1″)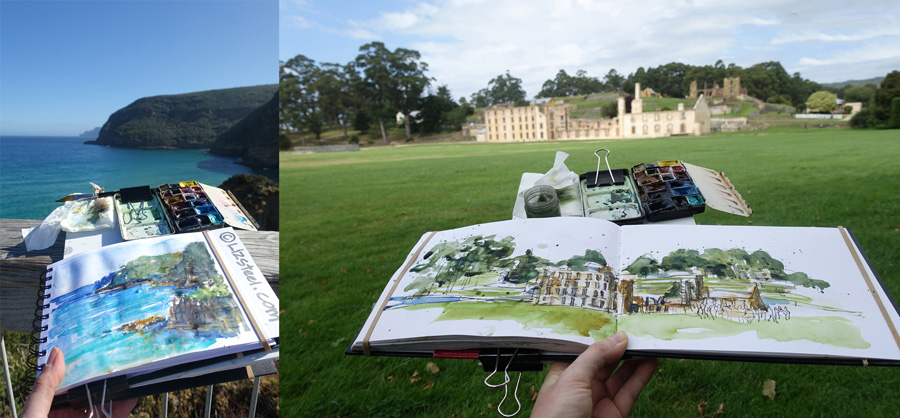 Having the spine of the book supported and my palette, water container and some paper towel all clipped together makes it very easy to use. No more awkward balancing one's gear. It does take a little time to set up, so on big sketching days I often walk the streets with my book and palette still clipped to the board.

If you want to see the board in action, here is a video of my sketch of Haworth church the day I visited Rosemary & Co Brushes (I have shared this previously but you might want to check out my "standing setup" again). Watch here.
There are a lot of other very cool solutions by other urban sketchers. I think one of fun things about the Urban Sketchers Symposium is that we get to see how other people manage their gear. So I would love to hear from you if you have any clever solutions for holding your sketchbook and gear when out sketching.
UPDATE: Here is a great talk on Youtube with lots of great ideas: What's In Your Pocket? A Juried Review of Cool Urban Sketching Gear – Mark Leibowitz

---
Learn the essential concepts and techniques for sketching on location – check out my 12 lesson course SketchingNow Foundations. The course has been designed specifically for people who want to start urban sketching!