Last month (during my staycation) I received a lovely package from Latvia – handmade paints from Deep Deep Light (DDL). The creators, Agnese and Daina, had reached out to me previously offering to send me some paints to try.
I have a great selection of their range… and it's been a fun process over the last number of weeks getting to know them. DDL have some fun granulating paints and they are really proud of their natural greens.
It's a big project to really get to know a whole range of new paints, and as I'm really busy at the moment, I'm taking this process slowly. So this article is really to tell you a little more about what paints I have and what I've used so far.
---
My selection: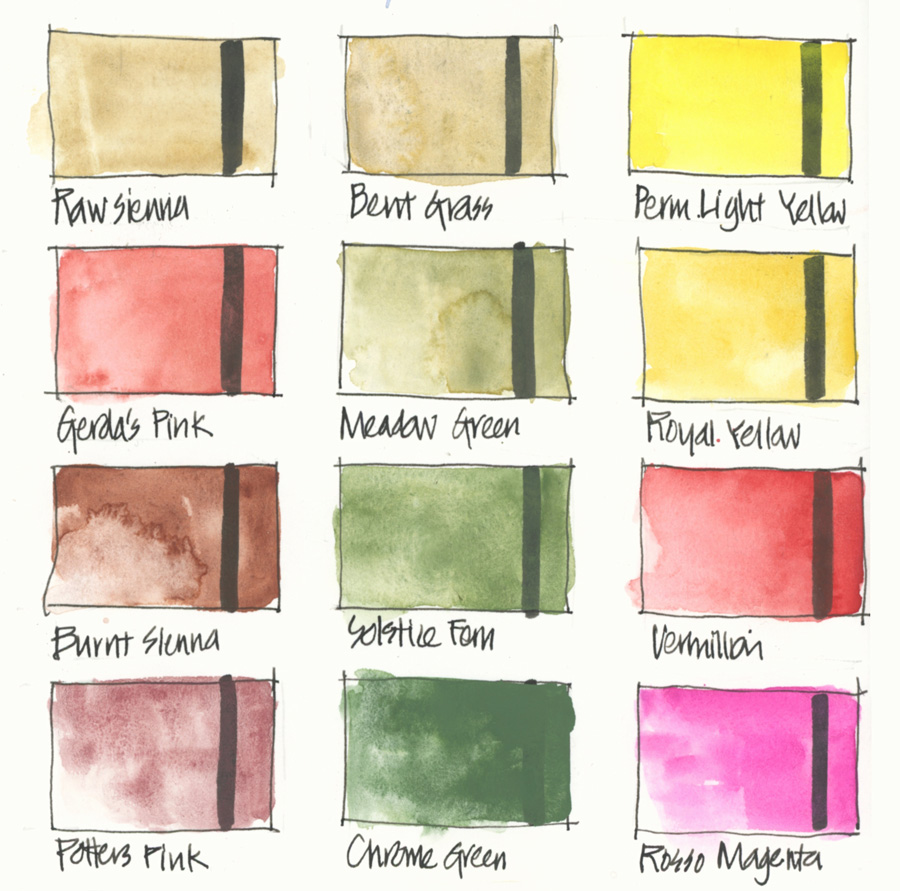 I just have colour dots for these last eight.
---
I don't have any pigment information for these paints at the moment. Normally I love poring over pigment information, but for a change, I'm enjoying not bothering about that and just playing with these paints.
I'm finding that pre-wetting the pans helps me pick up more paint, but there are only a few that really need this pre-wet. This was the advice from DDL : The stone pigments – Tuff, Vivianite and lapis lazuli are very slow to wake up. It takes about 7-10 minutes for them to open after a drop of water. But once it is done they are very special and I use them as granulators in mixes.
Some of the paints are a little gritty on the page once dried, but this doesn't bother me at all.
Okay… enough general comments… I'm just going to share what I've done with these paints so far.
---

The first thing I did was a colour chart and then sorted out how I was going to use them. I've put them in a large 24 metal tin. Note: These pages were done in my Clairefontane Goldline large Square book – using washi tape on this paper is disastrous.

Between those two charts, I did my first sketch using DDL paints – a morning coffee. I randomly used Ruta's Dream because the colour of the pan matched the green colour of my cup. Imagine my surprise when I realised the wash was drying purple! Ha! But look at that colour,granulation and separation of pigments!
Hmm, I need to do some more investigation.

So I did some messy random mixing tests to find out which colours granulated and how easy it was to pick up paint from the pans.

I only have one green paint in my palette normally (I mostly create my greens from mixing yellows and blues) so I wasn't sure how to use all these greens. 🙂
Another colour mixing study was in order. I had the intention to do more of this type of study, but my break was over.

On my first week back to work, I moved from my big square Goldline to my Alpha and struggled for a few days to feel comfortable with the smaller size (discussed here).
On my fourth bush sketch in this book, I used DDL paints exclusively. I really didn't know which colours to use… but it was fun to experiment. I realised that I wanted to do more testing before using them on location again. But sadly, that meant I stopped using them for a few weeks.

I did this teacup sketch using a few of the pinks – and loved the vibrancy of the pigments.

And then used three different paints for this two-toned pink leaf.
Hmm, I think, at the moment, I'm drawn to the pink paints in my DDL collection and although it's too early to be definitive about it… I'm really impressed by their Potter's Pink!
And that brings you up to date.
Overall, I'm loving using the Deep Deep Light paints. There are some gorgeous colours and granulating pigments and it's fun to use paints that are so different from my usual palette. I'm not sure if I will have an intensive DDL testing session soon, but instead I'm thinking of just slowly using them for isolated sketches. Getting to know them one or two colours at a time. So expect to see lots of little colour charts and mixing squares scattered through my pages in the coming weeks and months!
Thanks Agnese and Daina for sending me samples of your beautiful paints. Find out more about Deep Deep Light on their website – Instagram
---
So, what colours in this selection should I explore next? Let me know your ideas in the comment section below.