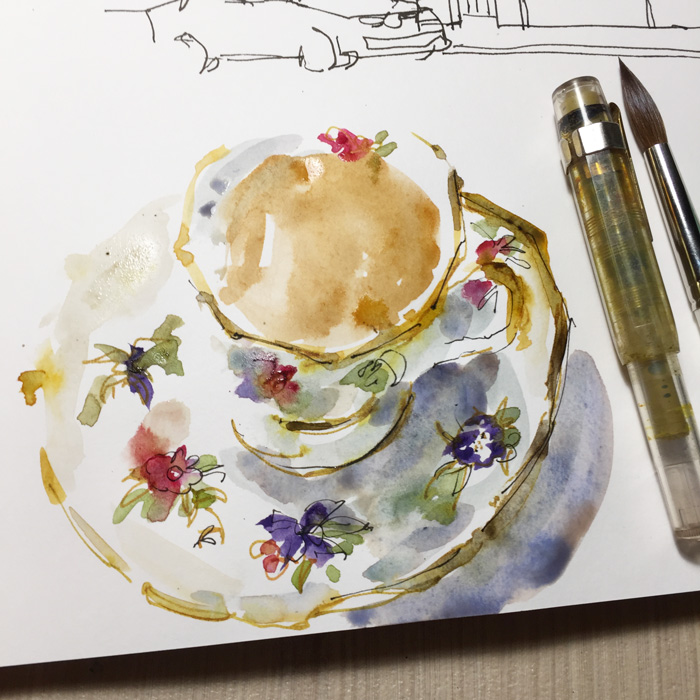 It's hard to believe, but another sabbatical week is upon me. Despite extensive planning and lots of hard work over the last six weeks, I am unable to have a full 'week off' this week.
But that's okay!  I will still be able to limit my work to 4 hours per day and spend the rest of the time catching up with life, a few friends and starting the serious prep for my trip to Italy in just over 2 weeks – the Palladian Odyssey is just around the corner!
So it was wonderful tonight that my pace has slowed down enough for me take a little time out to do a teacup sketch. This one turned out to be a bit different from previous attempts and it is certainly not an accurate rendering of the pattern. But, that is one of the fun things about the way I work – every time it comes out differently.
It always does me good to play with lost and found edges. For some reason the thought process required when working this way really gets my creative juices pumping again. It's also very topical due to last week's re-opening of my SketchingNow Edges course – ah! but you all know that, don't you?
And finally, just for the record, I am hoping to share some more interesting examples of sketches based on the Edges concepts during my big trip coming up. I don't think there is any need for me to say how excited I am about that.