My 'belts and braces' approach to traveling with ink.
Taking fountain pens on the plane:
I always fill my lamy pen fully before travelling on the plane and of course use it during the flight.
Only once ever have I had a very slight leakage problem and my lamy pen has been on many many flights.
I always try to keep pens in an upright position.
I did have a problem with a Noodlers Flex pen which spilt black ink all over a sketch when I carelessly opened the lid after arrival.
If you are unsure about a certain pen, or a little nervous about leakage, wrap a tissue around the pen and then put it in a zip-lock bag. On arrival, slowly take the cap off.

This photo shows the result of the most leakage I have ever had. I didn't get any ink on my hands cleaning up these leakage (which is impressive as I nearly always have ink on my hands after filling up a pen!)
Ink Supply:
Running out of ink is a big deal for me. You can normally buy more watercolour or adjust the colours you use, but if you run out of permanent ink, it is often very hard to source replacement ink… and I just dislike using fineliners for text and drawing. On my big trip during 2010, I dropped my ink pot in the basin and lost my last quantity so had to sketch with fineliner while in Rome. It was a big disappointment. So, I therefore much prefer to take more ink that I need.
During my last trip to Melbourne, I took a few different colours but wished I had taken at least one more colour – the fog grey! As I am going on a serious trip (Urban Sketchers Symposium) I want to keep my options open.
I have travelled with a new glass bottle of ink (a purchase). Just wrapped it in a zip lock bag and a sock and put it in my bathroom page. But normally I take a smaller quantity with me.
I have a VERY fancy (ie. expensive) ink container – The Visconti ink pot. It is vacuumed sealed and great to use. It has never leaked on me – I used to carry it in my liquids bag… now I just put it in my bathroom bag (in a zip lock bag of course and wrapped in a tissue just in case!)
But seriously you do not need a special ink pot – a small plastic container would do. You might want to source proper ink containers or 'non-leak travel containers'… but these ones have been fine. I use small hotel shampoo containers, and like any liquids in bottles, I seal the lid with tape. I then wrap with a tissue (so I can easily see if their has been a leakage – only once minor leakage in all my travels) then put inside a plastic (honey) jar and then in another zip lock bag.
The sample vials that you get from fountain pen stores work great!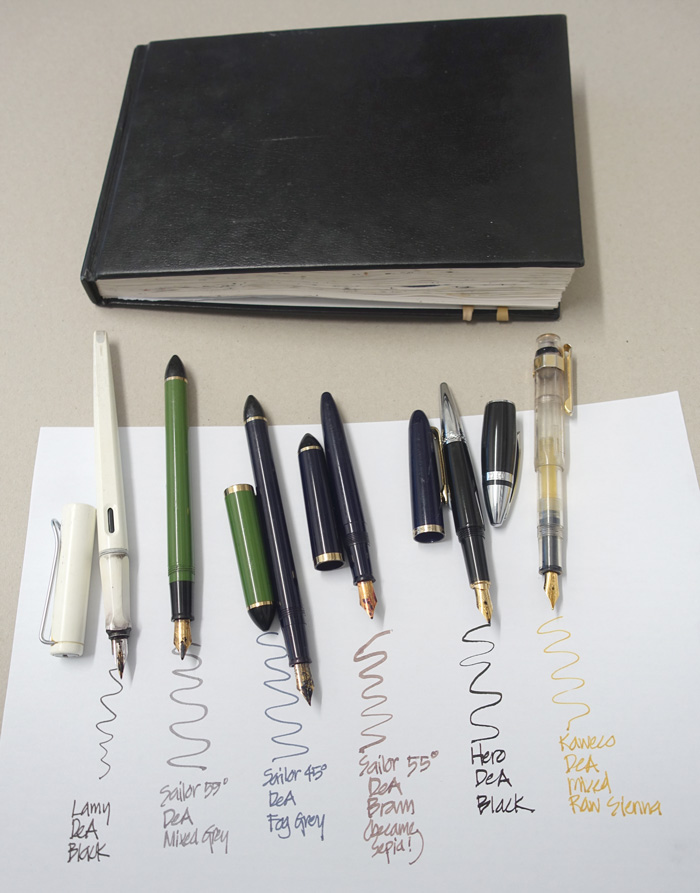 These were the colours I enjoyed using in Melbourne so I have decided to take a container of each (probably more than I need) but I go through a LOT of ink using the Sailor Pen – a full convertor of ink only last 2 sketches so I check and re-fill my pens every night.

Also, I am moving away from use a convertor to re-filling the plastic cartridge as it contains more ink. The best purchase I have made recently is a $2.80 pipette syringe I got from Daiso (thanks Clover). This is so easy to use – I use it to fill up all my pens now – and it is making my Visconti less necessary.
Ok… I think I better get back to my long list of things to do….
Would be very interested in hearing other peoples way of travelling with ink!
---
SketchingNow Online Sketching Courses: Foundations Self Directed course start today!
---