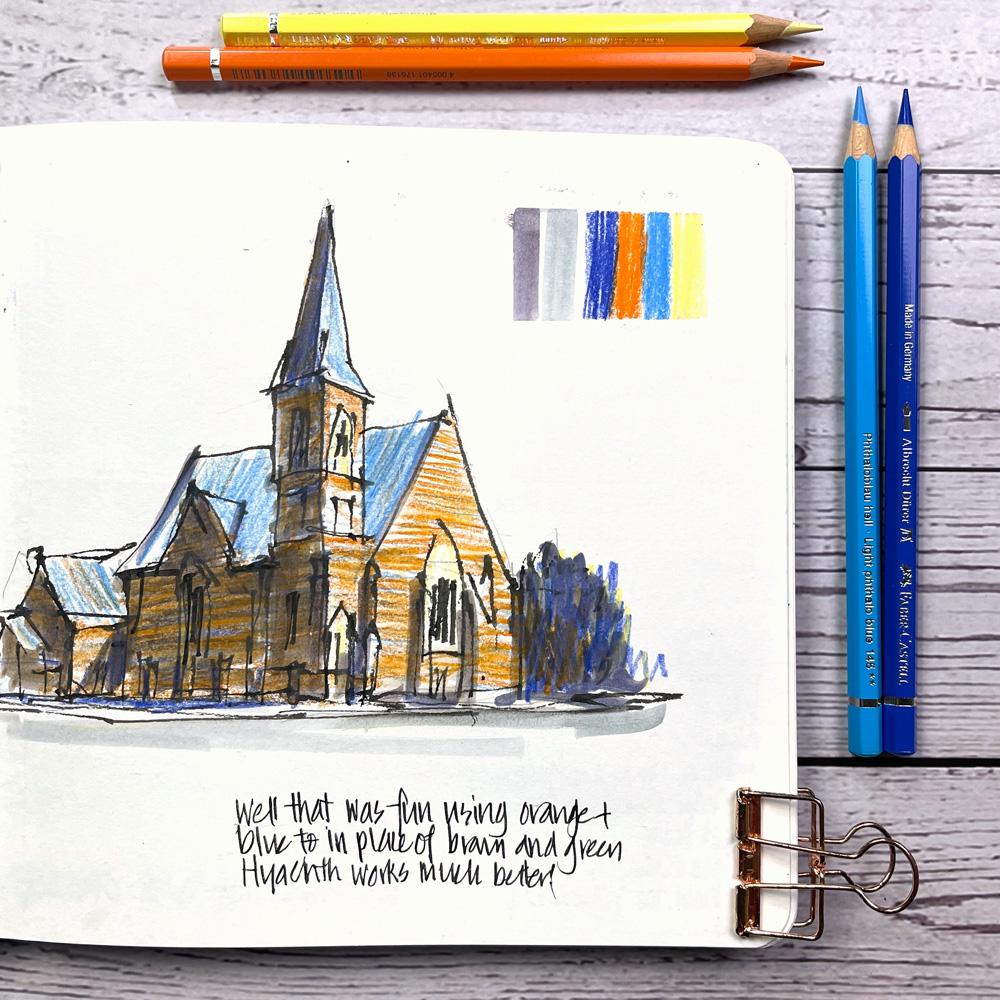 Last week I started exclusively using the art supplies that were included in my Colour4Life box sent to me by Faber Castell. (See here for more about the exciting box.)
I began with the materials that I was most familiar with – the Albrecht Durer watercolour pencils. But there is a catch! The colour selection is very different from what I normally use – lots of bright colours and no browns or greys!
And so last week I had the fun challenge of using a different colour scheme and it was interesting to see how much it initially threw me!

Here are the WCP colours that I was using and I also decided to combine them with the greyscale set of 6 GoldFaber Aqua Markers. So yes, I admit that the heading to this article is somewhat misleading as I do have some greys in my kit! 🙂

I started the week thinking I would use the markers for a grey-scale version of this standard view of the Village Green. I wasn't sure how I would use the bright-coloured WCPs so I chickened out and did this value sketch!

That night I decided to do some experiments using the WCPs with some markers. I set a timer for 20 minutes and then did a few quick sketches of some regional NSW buildings from photos (buildings in Bathurst, Sofala and Temora) to see how I would go without any brown, grey or nice green WCPs. This was a lot of fun but I wasn't totally happy with some of the results.

So the next day I tried a similar technique for my usual Village Green sketch… and it did not go to plan! It was a bit too dull.

A few hours later I stopped in a cafe at Chatswood and decided it was time to start using the bright colours but I didn't really want to do an orange coffee!
Now I know that I could probably mix a few different colours and achieve a close enough match but I prefer to use watercolour pencils without much layering. So I decided that I would add a Brown Ochre and a Dark Indigo pencil (my two favourite Albrecht Durer colours) to my kit for occasions when I really felt I needed them. Ah! cheating already on Day 2! 🙂
I also thought that it would be good to use the two purple greys in the marker set rather than the cold greys which I thought was making my sketches a little dull (despite the bright WCPs!)

So I redid the 'Speed Sketching Session' of the previous evening using these purple greys. I was happier with these versions and felt as if I was actually getting a feel for these new colours!

The next morning I decided to just use the bright colours and see what happened. The result was a colour scheme that is very out of character but xzI really enjoyed doing this sketch – including using that wild artificial green!

The greens in the set include Earth Green (a lovely muted green that I do actually include in my normal set of WCPs) plus light green and dark phthalo green (which are super bright greens that I would never touch!) So the next task was to explore how to mix some useful greens. I don't have a normal yellow in the set (just Cream and Dark Chrome Yellow) so that is also a little limiting.
If you can't already tell… I was really starting to enjoy this challenge of working with a new selection of colours.

Another cafe visit and I cheated by using the Brown Ochre for the coffee and also for the cake. I've got no idea how I made the dark brown cake but I like the result.

My goal is to use the Colour4Life colour selection as often as possible and only use my 2 cheat colours if I absolutely have to! Sketching on the train and looking at people mostly wearing black was one such occasion! As my note says "I just couldn't do orange or purple hair." 🙂

The last sketch in this article (George St in The Rocks) was a bit of an achievement as I only used the Colour4Life colours. I used yellow (Cream and Dark Chrome Yellow) for the sandstone buildings and mostly orange for the brick building (Orange Glaze plus some Dark Red).
It's been really fun to use a selection of colours that I would never have chosen in the past week. But I will admit that I'm relying on the grey GoldFaber Aqua Markers to help tone down the bright WCPs.
I was a little thrown initially without my beloved browns and greys! It made me realise how strong my sense of colour is – knowing what type of hues I feel comfortable with. Whenever I start using new materials I always try to find colours that closely match what I'm used to so that I don't have to reinvent the wheel. This week I knew the materials but not the colours so that was a really fun change.
---
Finally – just a reminder for those of you in Australia of Faber Castell's Colour4Life competition – find out more here.