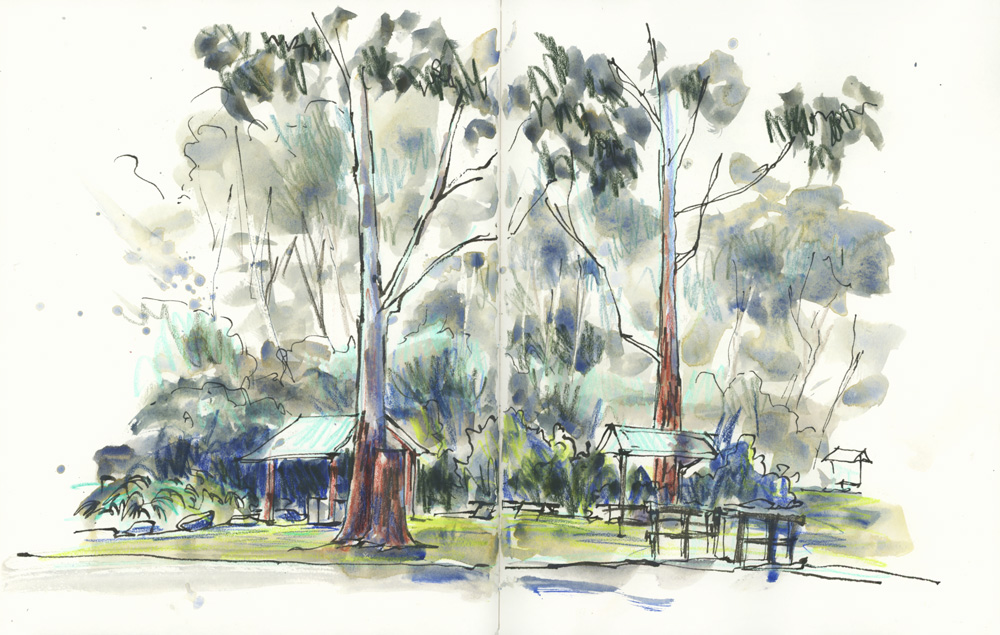 Yesterday I finally got back to Lane Cove National Park for a short sketching session. It's been over a month since I was last there and I've missed it!
And since my last visit one of the trees that I've sketched often has been chopped down – it was one half of a twin tree! Or is it a twin-trunked tree?
I'm a little upset as it was a great element to sketch but appreciate the need to make sure that the picnic areas are safe from falling limbs.
This is the first time that I have combined coloured pencils (CPs) with watercolour here (normally my sketches are ink, watercolour pencils and watercolour) and even though I was having fun with different CP hues I was mainly focusing on the characteristics of my watercolour washes. Due to the fact that the CP strokes are normally visible through the washes and also create a degree of 'resist' the pigment to water ratio I use and the way I apply my strokes is super important.
This sketch isn't totally finished because when I was in the last stages of applying watercolour I was attacked by a kookaburra.
This type of thing has happened a few times before but normally I see the bird coming. I know that they think my palette is something edible so they are aiming for my paints. This time I was actually mixing paint when the bird swooped so it clipped my hand. I wasn't particularly rattled but I didn't want it to happen again and so finished my sketch early.

When I stood up to walk back to my car I noticed four kookaburras in a tree watching me! Which one did the deed?

Before I talk more about my washes… here are two sketches showing the two trunks. These are now historic documents!

Once I was back home I thought I would do a few swatches to explain the different paints I use and how I'm always thinking about achieving pigment parties – whether I use these combos in a watery or juicy wash.
I'm also mixing up how I apply my paint – whether a quick light stroke across the page (making it look like dry brush marks) or whether I'm maximising the number of beads I'm creating by multiple strokes.
Paints used:
HYM – DS Hansa Yellow Medium PY97
FU – SCH French Ultramarine PB29
IB – DS Indanthrone Blue PB60
MANS – DS Monte Amiata Natural Sienna PBr7
Find out more about why I use these paints in this series of articles.
This diagram – a sneak peek from Lesson 1 of my Watercolour course – explains what I mean by pigment party.
And oh! BTW The Live Version of Watercolour starts today.
I'll be working through the exercises again – and sharing new insights in the weekly live sessions. Last night I did a WJP colour chart (WJP = water, juicy, pasty) for my new Aquarius palette and realised that this is the way I should do all my colour charts in the future! I'll share more with the group during the course in the coming week!
Find out more about the Watercolour course here.